During a visit to the Caribbean, Prime Minister David Cameron, accompanied by International Development Secretary Justine Greening, announced a quadrupling of UK support to the region.
Speaking to the joint Houses of Parliament in Jamaica, he announced a package of over £360m (over US$600m) of bilateral aid, featuring:
£300 million for a new UK-Caribbean Infrastructure Partnership Fund to build new ports, roads and bridges to boost trade and growth;
£30 million to make health facilities more resistant to natural disaster; and
£30 million for new programmes to support economic growth.
Funds will be administered in partnership with the Caribbean Development Bank.
The Prime Minister praised the strong links between the UK and the Caribbean as he visited Grenada.Transcript:David Cameron: "I'm here in a primary school in Grenada, having just made a visit to Jamaica, and this is the first time a British prime minister has been to the Caribbean in many, many years. And I think it's right to make a visit like this – we have such strong relations and close relations with the Caribbean. Many people of Caribbean origin make an incredible contribution to our country and there are many British nationals living here in the Caribbean. "I've announced on this visit a new £300 million fund to help build infrastructure in these countries – bridges; roads; ports; things that will help them to grow and help them trade with us. I've just seen one of the bridges that desperately needs to be rebuilt, and I'm proud of the fact that with our aid budget, and meeting our 0.7% of GDP, this is the sort of thing that Britain can do, rebuilding our relationship with this part of the world where the connections run so deep."Find out more about the £300 million Infrastructure Fund: https://www.gov.uk/government/news/pm-announces-300-million-fund-for-caribbean-infrastructure

Posted by UK Prime Minister on Thursday, October 1, 2015
In a visit to Grenada on Wednesday, 30 September, Prime Minister Cameron and the Grenadian Prime Minister Dr Keith Mitchell saw the long-term after-effects of natural disasters when they visited the small town of Gouyave. They visited the sole remaining nutmeg processing plant after Hurricane Ivan hit the country and viewed a bridge which had also been severely damaged by the hurricane and subsequent tropical storms. This bridge is already earmarked for DFID/World Bank support but it demonstrates the kind of project that could benefit from the new UK-Caribbean Infrastructure Partnership Fund.
In his subsequent meeting with Dr Mitchell and his Cabinet, PM Cameron stressed the continuity of links between the UK and the Caribbean.
PM Cameron said, "I'm delighted to be making my first visit as Prime Minister to the Caribbean, indeed the first bilateral visit by a British Prime Minister for 14 years. I'm coming with one clear and simple message — we would both benefit from a stronger and deeper relationship.
"We want to help the Caribbean on their path of development — supporting economic growth and creating new opportunities for people living here.
"I believe that Britain can help the Caribbean countries on their path of development — lifting people out of poverty, increasing economic growth, trade and security, and creating opportunities for young generations. That's in your interest but it's firmly in our interest too.
"I think there is some truth in those who say Britain has taken this relationship for granted for too long and I want to put that right.
"Our relationship should be based on the countries we are today and the opportunities we can generate together, rather than over-relying on the historical ties of the past.
"Britain wants to be your partner for the future, your partner of choice and I hope my visit can be the start of that."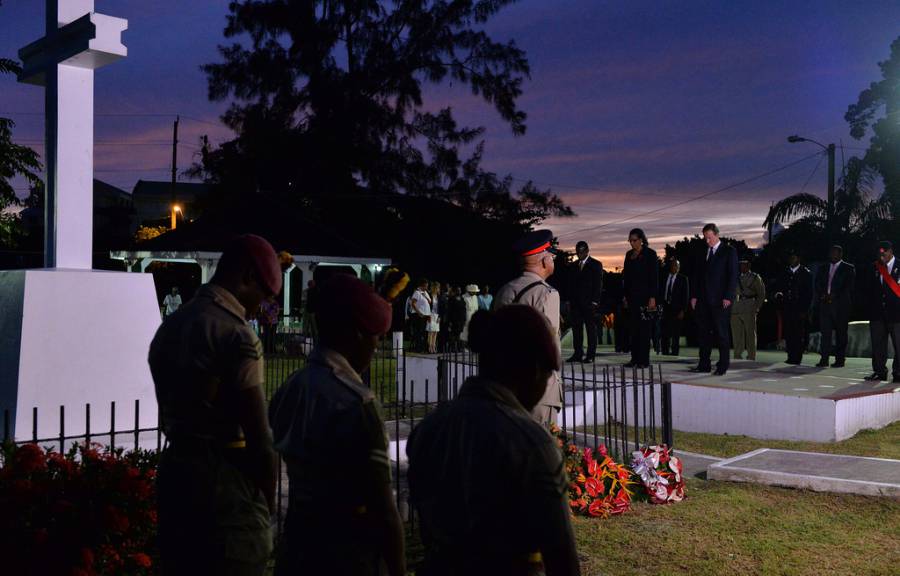 International Development Secretary, Justine Greening, said "Too many Caribbean countries are held back because they remain vulnerable to severe economic or climate shocks. With some of the highest energy costs in the world, it is difficult for businesses to compete in global markets, leading to decades of slow or declining growth.
"Britain's close relationship with the Caribbean and our new support will help boost growth and kick-start economic recovery across the region as well as creating important trade and investment opportunities for the UK."
Also announced was a doubling of UK Chevening Scholarships for the Caribbean and enhanced support in the fight against serious and organised crime in the region.
NOW Grenada is not responsible for the opinions, statements or media content presented by contributors. In case of abuse, click here to report.