By Milton Coy
CAMS
An appeal was made for children and families of the elderly, who are in Homes, to take more interest in their well being. Minister for Social Development, Hon. Delma Thomas, made the appeal while delivering the feature address at the opening of a 2-day symposium organized by the Grenada National Council on Aging Inc (GNCA Inc.) on, 1 October 2015 at the National Museum, Young Street, St George's.
The Minister appealed to persons who do not visit their parents or relatives while in Home care, to do more for them. Do not neglect them. This, she added, is putting extra burden on the State to provide adequate care for the elderly. We need to be more caring and supportive for those who contributed towards our development, Ms Thomas said.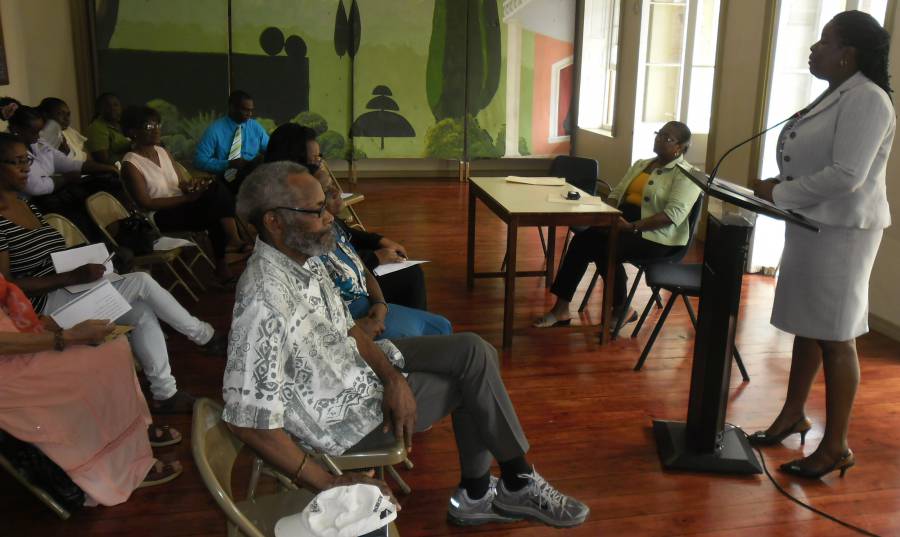 The symposium was held in observance of the 25th anniversary of International Day for Older Persons — 1 October. The focus of the symposium was to create awareness of the 17 UN Sustainable Development Goals, and how they impact on older persons. This can also ensure that people will grown old with dignity and continue to participate in society as citizens with full rights.
In her remarks, President of GNCA Inc, Mrs Gloria Belfon said, this years' celebration seeks to demonstrate that an age inclusive agenda is crucial for sustainable urban environments to promote equity, welfare and shared prosperity for all. The theme adopted by GNCA is "Nothing for us without us".
During the 2 days, presentations were by Mrs Pamela Moses of the Ministry of Education on SDG number 4, which calls for States to 'Ensure inclusive and equitable education and promote life-long opportunities for all'; Dr Martin Francis, head of the Community Health program, Ministry of Health. His presentation focused on SDG 3, which requires the State to 'Ensure healthy lives and promote well-being for all at all ages'. Dr Malachi Dotin, Head of the Zero Hunger Initiative in the Ministry of Agriculture focused on 'Ending hunger, achieve food security, improved nutrition and promote agriculture for all' — according to SDG number 2. Mr Allison Neptune of National Water and Sewage Authority (NAWASA) made a presentation on SGD number 6 which calls for 'Ensuring availability and sustainable development of water and sanitation for all'.
According to members of the Council, the symposium was successful as reflected in the outcomes, which are expected to guide the way forward for the Council. These include — begin a campaign to attract and include more men in the work of the Council as well as to speak out on issues relating to older men; Build resilience among older persons in Grenada, Carriacou and Petite Martinique; Introduce Life Skills for Adults which will include academic and vocational training and to ensure that older persons can access the services available at the General Hospital and the general health system.
NOW Grenada
is not responsible for the opinions, statements or media content presented by contributors. In case of abuse,
click here to report
.