Venezuela has promised to assist Grenada in developing potentials which may exist in the oil and gas sector.
President Nicolás Maduro, who visited the island on Saturday, 17 October, says he will immediately instruct his foreign minister, Delcy Eloina Rodríguez Gómez, to form a team to begin dialogue with St George's.
The Venezuelan leader told Prime Minister Dr Keith Mitchell during a bilateral meeting, that Caracas and St George's should not delay on this initiative.
"We can work together on this. I entrust the Foreign Minister to form this team and let us move as quickly as possible. We have vast experience in oil and gas," President Maduro told the meeting, which included Energy Minister Gregory Bowen, Health Minister Nickolas Steele, Oliver Joseph, Minister for Economic Development, and Dr Clarice Modeste, Minister for Foreign Affairs.
"The minister of energy will work with you on this. Tell us how far you want to go and we will go with you."
New talks between Grenada and Venezuela are expected to focus on boundary delimitation following initial discussion on the issue some years ago.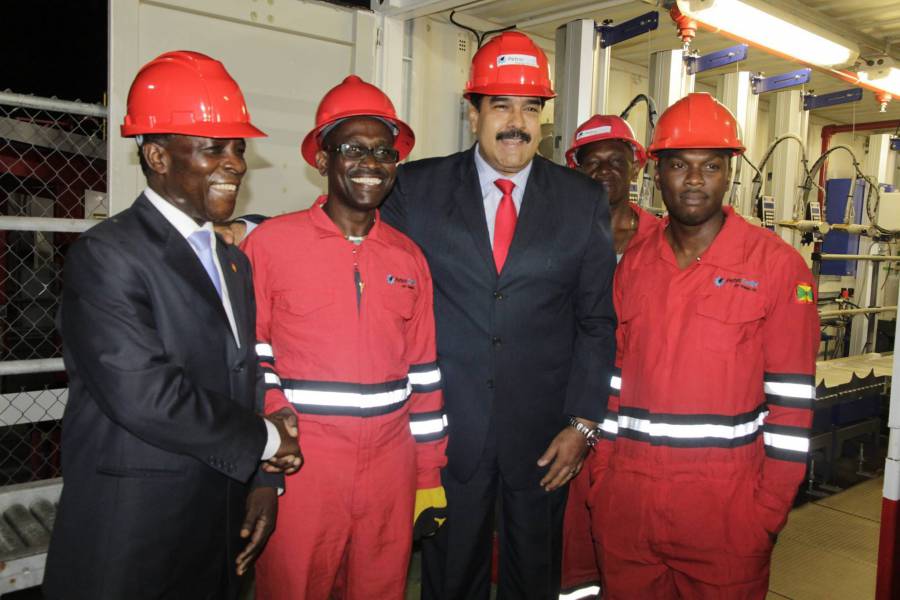 Prime Minister Mitchell told President Maduro that Grenada is just as eager to reach an agreement, particularly in light of the positive implications for the local economy.
"There is a necessity for delimitation of our boundaries so we can access the resources, as Venezuela has been able to do. We want to advance this as soon as possible because the indication is that there are serious resources to be accessed when this happens," said Prime Minister Mitchell, who is also chair of the OECS authority.
"It is in the entire region's best interest to settle any disputes, boundaries or otherwise in the most peaceful manner possible. Anything less would be disastrous. Venezuela, you have the resources, you have the infrastructure. We are not trying to get anything more than what our fair share is."
Meanwhile, Grenada's former Energy Minister, Gregory Bowen, reminded the Venezuelan leader that positive discussions on the boundary delimitation had begun a few years ago with the late President, Hugo Chávez. Minister Bowen informed President Maduro that a Grenada team is standing by to return to the table.
"We also discussed as part of that arrangement, moving directly to joint exploration and development in the unresolved area in the event that a boundary cannot be agreed upon by the parties," recalled Bowen, in reference to initial discussion between both countries."
"With the great friendship between our two countries, it should be easily accomplished. Our big brother has the knowledge and capacity to help us".
The Venezuelan team readily agreed to work together, with the President Maduro saying "so we can develop and work together in relation to issues of oil and gas, using technology that PDVSA has. That is Chávez' order and we need to fulfill as soon as possible. That can be easily resolved."
GIS
NOW Grenada
is not responsible for the opinions, statements or media content presented by contributors. In case of abuse,
click here to report
.