A reachwithin.org charity campaign raising funds for children living in care homes across Grenada, called #ARunForGrenada, has surpassed everyone's expectations and has been a huge success. The campaign, which has thus far raised almost US$14,000, will remain live until Monday, 9 November 2015 at http://igg.me/at/ARunForGrenada in a desire to push towards its US$20,000 goal.
On the day of #ArunForGrenada, on Sunday, 1 November 2015, fourteen people began the run at 4 am in St George's. With the team, and helping to boost interest in the campaign, was Canadian actor, Brandon Jay McLaren, whose father is from the town of Grenville, St Andrew. The team was joined along the way by at least six other people enthused by the initiative.
The front-runners arrived at Petite Anse Bridge in Sauteurs in a mere 2.5 hours, with Brandon Jay McLaren finishing the punishing course in just 3 hours and 20 minutes! But it wasn't over yet— there was still another 2.5 miles from the Petite Anse bridge to the Petite Anse Hotel with the symbolic Last Mile Fun Run! Minister for Culture, Sen. Brenda Hood showed her support by both opening and taking part in the Last Mile Fun Run, and was joined by all the other runners including media personality Lexan Fletcher, and Brandon's parents, Ira and Denise.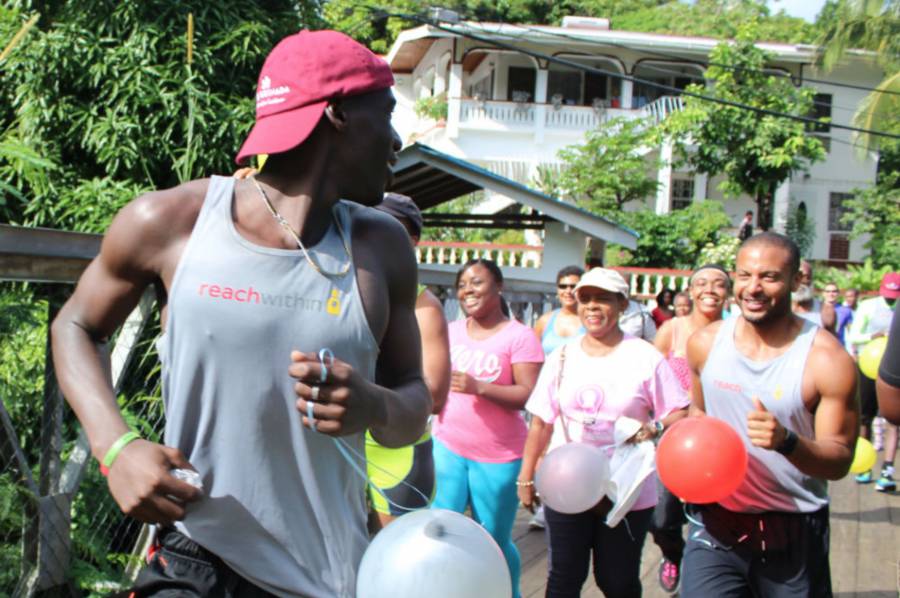 All participants carried a ballon to recognise Child Month, and Ms Hood wore her Pink Breast Cancer Awareness T-Shirt. While the Last Mile Fun Run was a joy for most participants, those with aching legs and calves after the run from St George's had to really push their bodies to the limit to reach the end destination at the Petite Anse Hotel. It was a gruelling, difficult, and exhausting day for the runners, but everyone involved loved having the opportunity to run beside them, which created a wonderful team spirit. Everyone admired their strength and determination, and by the end there were lots of laughs and smiles and a great sense of achievement was felt by all.
Both Vincent Aloi, reachwithin.org Director of Operations, and Sen. Brenda Hood shared a few words with participants at the end. Vincent said he had to really "reach within" in order to finish the run, which is similar to what reachwithin.org programmes encourage the young children in care to do, to reach within to increase their strength and confidence to help deal with adversities and obstacles that life may throw at them. Sen. Brenda Hood said she was very proud to take part in what was a great cause, thanked everyone for their support, and urged everyone to do what they can, to help the initiative to become an annual event.
reachwithin.org would like to give a special thanks to Sen. Brenda Hood, actor Brandon Jay McLaren, media personality Lexan Fletcher, and GTC Radio Presenter Rickol Julien, for both supporting and taking part in our #ArunForGrenada campaign. To former Grenadian triathlete Marc DeCaul, who led a coaching workshop for runners and provided shoes for four participants; to St George's University Transport Division for providing a 30-seater bus for the day; to Petite Anse Hotel & Restaurant for providing delicious food and beverages and allowed the full use of their pool; and to Dwain D Thomas who took time out of his busy schedule to capture some of the day in photos.
reachwithin.org also forged a special relationship with the Grenada Tourism Authority to host Brandon and his parents on a very successful Twitter Takeover tour of Grenada. To follow, all #ArunForGrenada activities search with the hashtag on Twitter, Facebook and Instagram.
NOW Grenada
is not responsible for the opinions, statements or media content presented by contributors. In case of abuse,
click here to report
.