The Pure Grenada Music Festival on Tuesday, 15 December 2015, presented the full line up of Grenadian artistes participating in the much-anticipated 6-day, 4-venue event carded for 5 to 10 April 2016.
10 up and coming local bands were selected through participation in the earlier launched Ready for the Big Stage initiative. These are: Sabrina Francis (Voices of the World – 5 April 2016); Love Vibes, Natty & Channel 12, Ahkeem & Nature Claim, Changes, Sheereen Brizan & the Inflectionz (Mobile concerts in Gouyave and Grenville on 6 & 7 April); The Phoenix (Rock De Boat – Floating Stage, 7 April); Jomo & Gylfi (Rhythm and Soul – 8 April); Spice Rock (Reggae Night – 9 April); and Soul Deep (Pure Grenada Vibz – 10 April).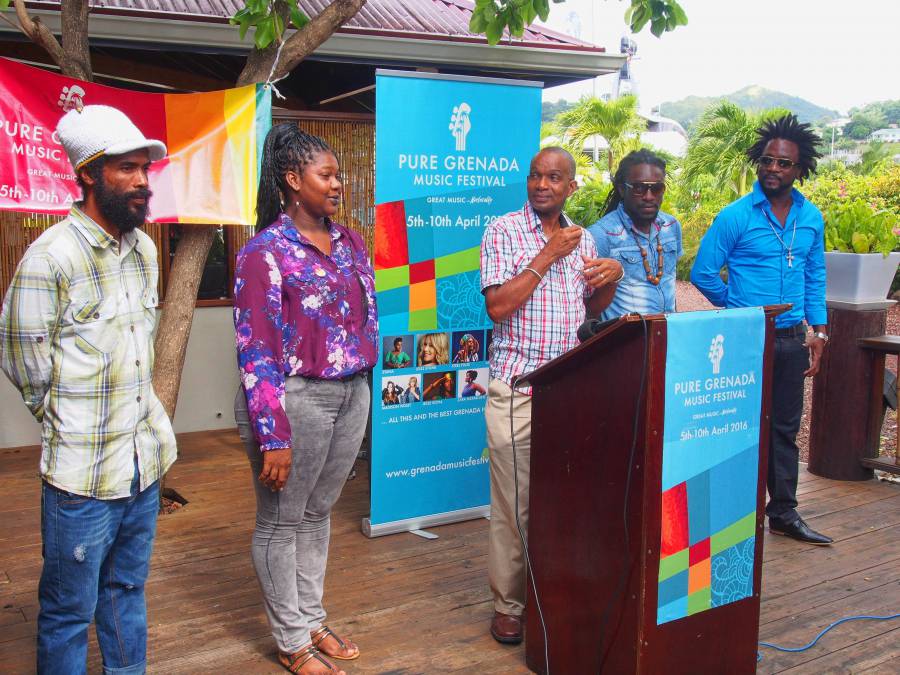 Added to this pool of phenomenal talent is a list of names, which reads as the "Grenadian Who's Who" of pioneering and successful musical achievement in Grenada, Carriacou and Petite Martinique. Bringing the curtain down on the festival is all Grenadian cast of Musical Royalty — Valene Nedd, Keturah George, Kelly "Rootsman Kelly" Clyne; Kelson and Kellon "Luni Spark and Electrify" Ogiste; Elwin "Black Wizard" McQuilkin; Wilt "Tallpree" Cambridge; Findley "Scholar" Jeffrey; Hollice "Mr Killa" Mapp, and Edson "Ajamu" Mitchell.
Musical Director for the Programme, Mr Ethorn Francis, explained that the artistes will be accompanied by a hand-picked band of Grenada's best musicians under his guidance, supported by Mr Cecil Noel.
Apart from performing their own pieces, all artistes will present a collaborative musical surprise, adding to the delight and anticipation of what promises to be the show to end all shows.
Steering Committee Member, Dieter Burkhalter says "Pure Grenada Vibz is one of several projects within the Pure Grenada Music Festival which speaks directly to the benefit of Grenada and Grenadians. Ready for the Big Stage, Pure Grenada Vibz, our Artiste in Residence Programmes is the beginning of the delivery of our mandate.
It is no coincidence that the closing night of the inaugural Pure Grenada Music Festival is final reminder to the world of who we are and what we have to offer musically. It is also a reminder of why they should return next year and continue to support Grenadian talent."
He reiterated the purpose of the festival as a window for exposure to the international community and most importantly a platform for developing Grenadian musicians under the auspices of Music and Beyond.
Music and Beyond is the locally registered non-profit responsible for this very first fundraising initiative to which all the festivals profits would be donated so that critical necessary and adequate support required by musicians can be provided.
Tickets for the Pure Grenada Music Festival are available at outlets island-wide with an online option to follow soon.
To keep updated on the activities leading up to April 2016, like our Facebook page or visit our website: http://www.grenadamusicfestival.com/
NOW Grenada
is not responsible for the opinions, statements or media content presented by contributors. In case of abuse,
click here to report
.