by Linda Straker
A Junior Government Minister has reconfirmed that the open and green space on the Grand Anse beachfront known as Camerhogne Park, is earmarked to be converted as property for a US$120 million tourism development, and a new park will be erected in close proximity.
Without pointing out exactly where the open space will be moved, Sen. Winston Garraway told the media during a post-cabinet briefing, that along with the developer, Government has made a decision for the Park to be "adjacent" to the existing facility.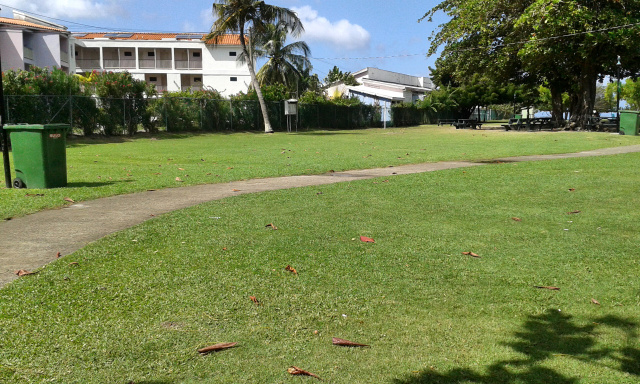 "The idea here is to develop a new Camerhogne Park, and if we are going to do that at a venue or a location away from where the present one is, it means that the present location will be utilized in the hotel project," said Garraway, who stated that before anything is done at or with the present location, the plan is to have the new facility up and operating.
Prime Minister Dr Keith Mitchell, while presenting the 2016 Budget during a sitting of the Lower House of Parliament on 25 November 2015, first informed the Nation about the proposal to relocate the Park. "During this design phase, the investors have agreed to construct a new Camerhogne Park nearby, and upgrade the Vendors' Market, and the basketball and tennis courts," Dr Mitchell told the House of Parliament.
Additional employment is expected to be created for approximately 260 Grenadians when the hotel becomes operational, and during the construction phase it will provide employment opportunity for about 100 persons.
The new tourism development is the 2nd of 3 projects to be undertaken by Egyptian Naguib Sawiris. It will encompass the site of the former Riviera Hotel. The new hotel is proposed to be a 400–room facility with a casino.
Camerhogne Park is the most active public entrance to the Grand Anse beach, and over the years has become a central recreational space for the general public. It is the only park or public space on Grand Anse beachfront.
NOW Grenada
is not responsible for the opinions, statements or media content presented by contributors. In case of abuse,
click here to report
.