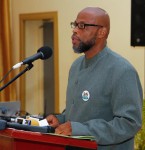 The Ministry of Agriculture, Lands, Forestry, Fisheries and the Environment hosted a work plan retreat at the Hospitality Centre of the Grenada National Stadium. The objectives of which are to reorient and refocus the various departments and sectors of the Ministry towards a more strategic direction. The discussion considered the new economic, trading and environmental realities prevailing in our country.
The focus areas of the retreat were:
Food and Nutrition Security
Integration of Climate Smart approaches in Agriculture, Land use, Conservation and Sustainable use of Natural Resources
Import substitution/Strategies to reduce the island's staggering food import bill
Agri-business development and Value Addition
Communication of strategic decisions and directives to staff as well as communicating initiatives and successes of the agri-food sector to the public at large
Extension services and supervision of Government controlled estates
The outputs of the workshop will inform the work program for 2016–2018.
The Ministry of Agriculture extended invitations to the Ministries of Health, Works, Tourism and Finance in order to examine and explore the synergies among them for increased cooperation.
Minister for Agriculture, Hon. Roland Bhola stated that the end goal of the retreat is to optimize the services that are provided by the Ministry and is confident that the retreat has been professionally facilitated and of the highest standard.
The Ministry of Agriculture, Lands, Forestry, Fisheries and the Environment is committed to optimal service delivery to all stakeholders. In that connection the Ministry is also dedicated to increasing the outputs of their workforce through fostering professional development of all levels of staff with continuous motivational strategies, open discussion, capacity building and training.
Ministry of Agriculture
NOW Grenada
is not responsible for the opinions, statements or media content presented by contributors. In case of abuse,
click here to report
.