by Linda Straker
Two of the three persons representing the Opposition National Democratic Congress (NDC) in the Senate are no longer executive members of the political party. 
Mrs Franka Bernardine and Dr George Vincent were not re-elected to the Executive Council during Sunday's Convention which was held at the Hermitage Government School under the theme "Reaching out to you to build a better future for all."
The guest speaker was past St Lucian government minister, Damian Greaves who presently is an Assistant Professor at St George's University.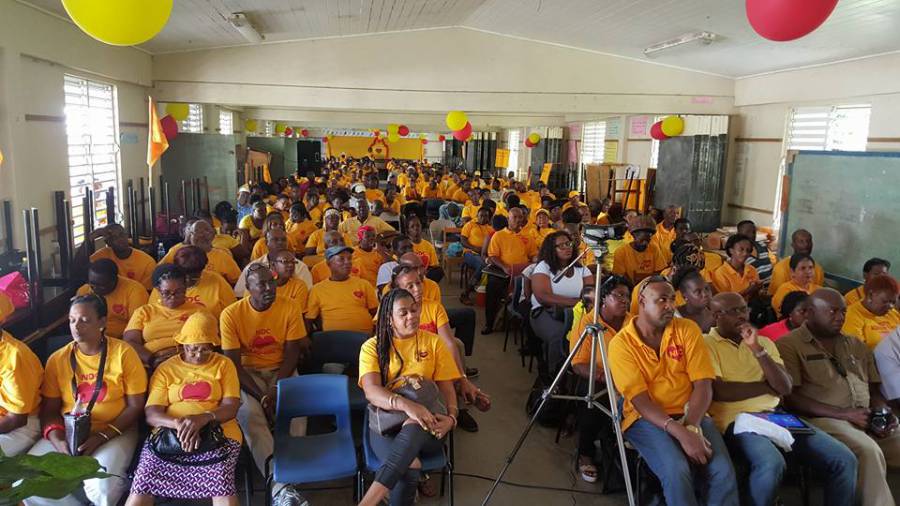 Incoming Public Relations Officer Randal Robinson said that both senators indicated that they wished to no longer serve on the executive of the party. "Caretakers/candidates have opted to spend their time in their constituencies," he said.
Efforts to reach both senators for a comment prove futile, as Dr Vincent's telephone went unanswered while a family member said that Bernardine was unwell.
The new executive has a number of familiar faces taking up new positions, and some new faces serving. Vincent Roberts who formerly served as recording secretary is now the Party's Chairman, while Jenny Simon who is the President of the Women's Arm is now the Deputy Chairman. She replaces Glen Noel, who during the 2015 Convention was elected to served as the Deputy Chairman of the party.
Former Sports Minister Patrick Simmons who was the Party's General Secretary was also not re-elected by the convention delegates, and Glen Noel now serves in the post, as the main organising and mobiliser for the party.
Also not serving on the 2016 executive are Petra Williams and Ali Dowden, who in 2015 were elected to serve as assistant recording secretary and assistant general secretary respectively.
Chairman
Vincent Roberts
Deputy Chairman
Jenny Simon
Deputy Political Leader
Joseph Andall
General Secretary
Glen Noel
Assistant General Secretaries

Elwin McQuilkin (East)

Andria Dharangit (West)

Recording Secretary
Frederick Parker
Asst. Recording Secretary
Jerry Marryshow
Treasurer
Merle Byer
Public Relations Officer
Randal Robinson
Assistant PRO
Ron Redhead
Labour Relations Officer
Elliot Bishop
Floor Members

Wallace Mc Leod (Carriacou & Petite Martinique)

Dale Simon

Terry Noel
The 2015 annual convention was held March, which has resulted in the January-elected 2015 executive serving for less than 12 months.
A release from the Party said that constitutionally the Office of Political Leader was not up for election until the next Annual Convention of the party in 2017.
NOW Grenada is not responsible for the opinions, statements or media content presented by contributors. In case of abuse, click here to report.