As part of a programme on Integrated Climate Change Adaptation Strategies (ICCAS), the German Agency for International Cooperation (GIZ) designed a training programme on Climate Smart Agriculture (CSA). This Capacity Development and Dissemination program for CSA, engaged agricultural technical officers in the Ministry of Agriculture, Lands, Forestry, Fisheries and the Environment, the Ministry of Carriacou and Petite Martinique, the Marketing and National Importing Board, the Grenada Cooperative Nutmeg Association and the Grenada Cocoa Association.
The first phase of the training programme, which was implemented in cooperation with the Inter-American Institute for Cooperation on Agriculture (IICA), came to an end with the closing ceremony on 10 February 2016. The objective of the training was to disseminate knowledge on CSA within the agricultural sector, through the GIZ developed Modules of Sustainable Agriculture. The training also included a demonstration on how to build a compost bin over a 10-week period, using Mr Winston Ottley's farm in Mt Cassell, St Andrew, as the pilot. The knowledge gained will be quickly transferred to the farmers and other stakeholders through the advisory work of the agricultural technical officers, but also through exchange between farmers, which will also be supported by ICCAS.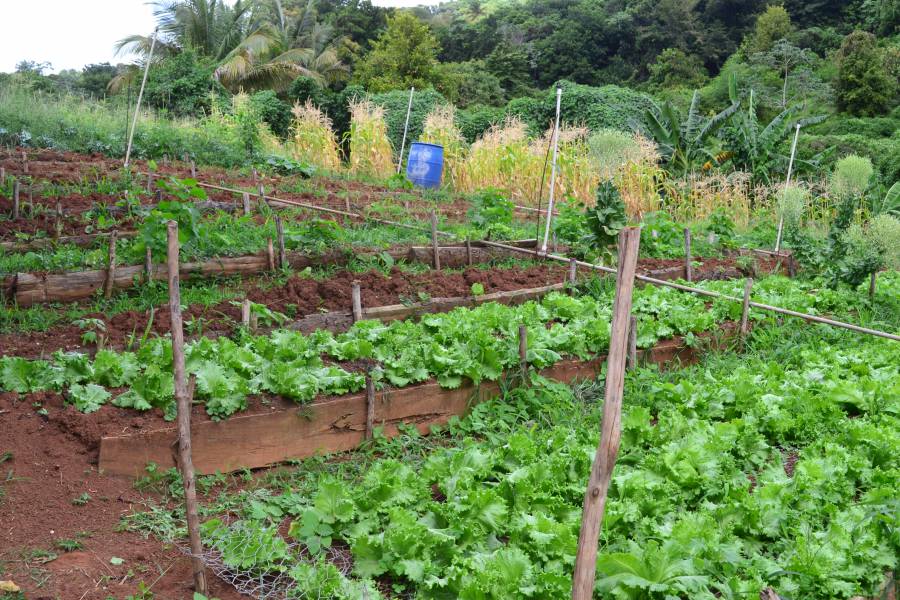 The closing ceremony of the first phase entailed viewing Mr Ottley's use of the compost on his short crops and corn. Mr Ottley stated, "I want to leave the soil much better than I met it — and I want to save costs on artificial fertilizers. Both can be done with compost, and I can only recommend that other farmers do the same thing." The agricultural technical officers were also very happy to see that the crops were responding well to the compost and were quite animated when sharing the results with other farmers. Mrs Ntaba Francis, Technical Officer with GIZ, urged the officers "to not only share composting with farmers but also inform them about many climate-smart practices as possible such as rainwater harvesting, soil conservation practices and others."
As part of the ceremony activities, a composting fact sheet "How to Build a Compost System Using Locally Available Farm Material" was presented by Mr Troy Augustine, Agronomist in the Ministry of Agriculture, and produced by GIZ–ICCAS to support the officers in training farmers in the process of composting.
Currently, the integration of CSA practices into the 2016 work plans of the Ministry takes place in order to institutionalize CSA into the officers' standard advisory service to the farmers. This is part of the dissemination phase of the training program.
The ICCAS is funded by the German Federal Ministry for the Environment, Nature Conservation, Building and Nuclear Safety (BMUB) under its International Climate Initiative (IKI), and is implemented jointly by the Environment Division of the Ministry of Agriculture, GIZ and UNDP.
GIZ
NOW Grenada
is not responsible for the opinions, statements or media content presented by contributors. In case of abuse,
click here to report
.