CIBC FirstCaribbean joined the world in celebrating its female employees on International Women's day with a workshop for all staff conducted in partnership with the Grenada National Organisation of Women (GNOW) and the Ministry of Social Development & Housing on Thursday, 10 March 2016.
The workshop which was held at the Bank's conference centre in St George's explored such topics as human rights, the law as it relates to gender-based violence; gender equality definitions and maintaining healthy relationships — an alternative to gender-based violence which targeted specific challenges faced by women in Grenada, Carriacou and Petite Martinique. Mrs Elaine Henry–McQueen of Gender Affairs in the Ministry for Social Development facilitated the workshop.
"We are pleased that the bank is able to have this forum. Women make up over 66% of the bank's workforce therefore, the bank is committed to ensuring that we do all we can to encourage gender equality. We are looking forward to a follow-up session in a few months" said CIBC FirstCaribbean's Country Manager Nigel Ollivierre, who also participated in the workshop.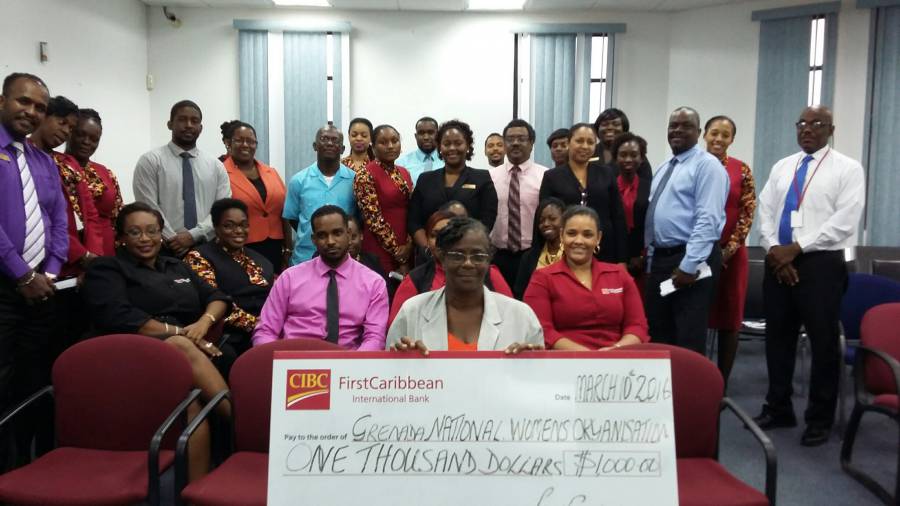 To close the day's events, CIBC FirstCaribbean presented GNOW with a contribution towards its activities surrounding International Women's Day and the promotion of gender equality in Grenada. The bank has been a contributor to GNOW for many years and a strong advocate for education and community development.
International Women's Day is celebrated each year on 8 March. This global movement celebrates the social, economic and political achievements of women all over the world. This year, the theme for International Women's Day was "Pledge for Parity" — a call to action for both men and women to take steps to help close the gender gap.
NOW Grenada is not responsible for the opinions, statements or media content presented by contributors. In case of abuse, click here to report.