On Friday 1st April 2016, the T A Marryshow Community College (TAMCC) Hospitality Department held its annual food exposition to raise funds for students who were awarded an internship at The Crane Hotel and Resort in Barbados.
35 students were selected from a number of the School's subdivisions — Culinary, Food & Beverage, Hospitality, Computer Science, Technical, Electronics and Engineering — to participate in this esteemed 3-month internship. Upon successful completion of the programme, participating students will receive Hotel & Lodging Certificates in Culinary Arts & Service, which will be an asset in gaining employment on cruise lines as well as in the USA.
By mid-afternoon on Friday 1st April, the school was humming with a flurry of activity and vibrant colours, as the students set up their various themed display booths to exhibit their creative culinary delights. This year's event featured international cuisine from a number of countries across the globe, including the Caribbean, Hawaii, Thailand, Africa, Spain, Italy, The British Isles, Mexico, India, China, France and many more. Upon entry to the fair, the public were treated to a visual spectacle of extravagant fruit carvings, pastries, baked goods, and vibrant décor, native to the countries which were featured.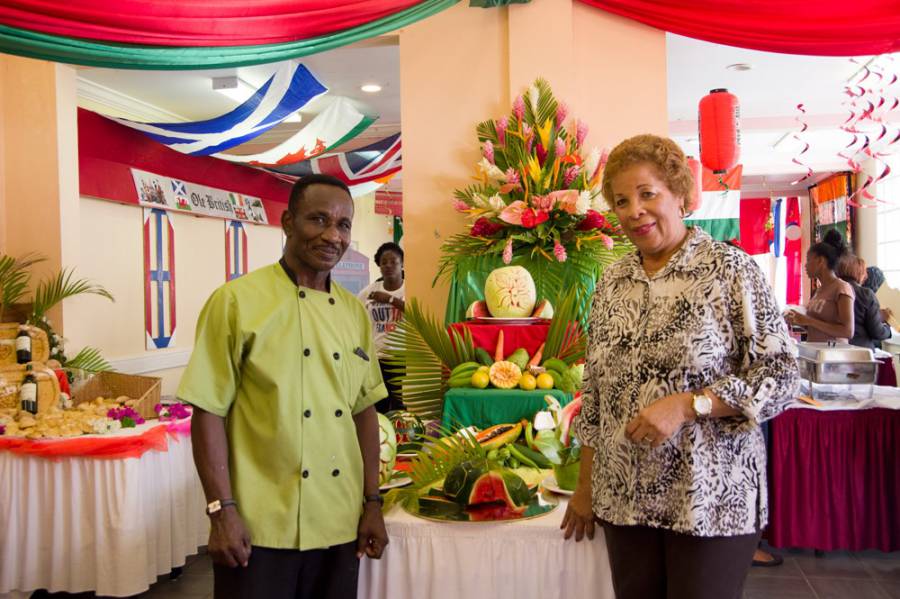 Carl Howell, culinary lecturer within the hospitality department, commented on the food fair "This culinary display and fundraiser is coordinated by the students who were selected for the internship. The fundraising event is a project for which the students will be graded on their culinary and event management skills, these being of great importance in the hospitality and service industries. The students were encouraged to use all their resources, knowledge and skills to impress the judges and the buying public" he said.
Historically, St Augustine's Medical Services (SAMS) has been an honoured supporter and contributor to the T A Marryshow Community College Nursing and Pharmaceutical Programmes for a number of years. Lauren Grey, MBE, Administrative Assistant at SAMS, attended the food fair and commended the students on the level of skill displayed in their work "SAMS is a proud supporter and advocate for all aspects of health, healthy lifestyles and education. We are pleased, that through our continued support, we are able to assist a number of deserving students in achieving further qualifications in the culinary, hospitality and service arenas" she commented.
"The effort of the students is impressive and I would like to commend them for their proficiency, the creative dishes on display, the evident background research into the cultures of the countries being featured, and the overall organisation of the event" she further noted.
Mr. Howell thanked St Augustine's Medical Services for their continued support and the other sponsors who contributed to the event in various ways: ADM Caribbean Agro Industries, SGU, Aquarium Restaurant, Grenada Distillers, Prickly Bay Marina, Beacon Insurance, Goddard Catering, Mitchell's Health and Wellness, Century21, Venus Restaurant & Sports Lounge, Knight's Auto World, and Island Catering.