Having conducted a recent survey of electricity prices, Grenlec again wants to correct the assertion that Grenada's electricity prices are the highest in the Caribbean and the world.  
The typical monthly bill for a home in Grenada, using Grenlec's average domestic customer's consumption of 141 kWh (units) per month, is comparable to similarly sized small island nations in the Caribbean, and is actually lower than in some larger island nations with significantly bigger electrical systems and with higher penetrations of renewable energy, such as the U.S. Hawaiian Islands and Aruba.
Grenlec's residential monthly bill consists of costs for fuel, operations, and administration, as well as the mandated Value Added Tax (VAT) of 15% on the non-fuel portion of the bill and the environmental levy of $5 or $10 on domestic rates that are applicable in Grenada.
Grenada's current average residential electricity price at EC$0.63/kWh is on par with other Caribbean islands. On a much larger scale, with a population more than 10 times greater than Grenada, the U.S. Hawaiian Islands' residential rates are EC$0.80 to EC$0.95/kWh.
Also, our typical commercial customer's monthly bill is comparable to, and in many cases below most other islands. The comparison is based on Grenlec's average commercial customer's consumption of 1,369 kWh (units) per month and includes VAT at 15% on the non-fuel portion of the bill.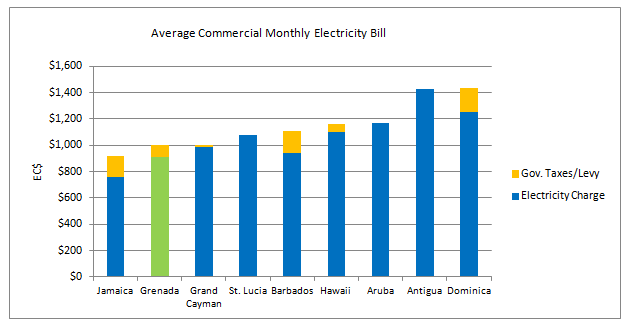 Falling Electricity Prices
Also contrary to recent assertions associated with the Electricity Supply Bill 2016 proceedings, Grenlec is regulated under the 1994 Electricity Supply Act, which includes a price-cap ratemaking mechanism for comprehensively governing and regulating Grenlec's rates. Grenlec is not free to set its own rates.
For Example:
Fuel charge has decreased by 51.7% (from $0.5419 to $0.2620 per kWh) since November 2014.
Non-fuel charge has decreased twice: 3.2% effective 1 November 2014, and 2.35% effective 1 January 2016.
Over the last 22 years, the non-fuel charge has decreased in real terms by 33.3% when adjusted for inflation.
The combined effect of lower fuel costs and non-fuel charges has resulted in a 33.6% reduction in overall electricity prices since November 2014.
Electricity rates are at the lowest level since 2007.
The current regulatory system allows for monthly adjustment of the fuel charge and annual adjustment of the non-fuel charge. The price decreases highlighted above clearly demonstrate the successful functioning of the regulatory processes in place under the 1994 Electricity Supply Bill to control electricity prices.
For more information on Grenlec's rates, programmes, and renewable energy initiatives, please visit grenlec.com/energise
NOW Grenada is not responsible for the opinions, statements or media content presented by contributors. In case of abuse, click here to report.