St Joseph's Convent, St Andrew once again retained their title as 'Company of the Year', at the 2016 Junior Achievement (JA) annual awards ceremony held at the St George's University.
This year marked the school's 5th win, since they captured the title in 2010. They remained amongst the top performing schools, and captured the championship title consecutively from 2011 to 2013, and then again in 2015 and 2016.
The Junior Achievement Programme is the world's largest organization dedicated to educating students about entrepreneurship, work readiness and financial literacy through experiential, hands-on programs. JA was first introduced to Grenada in 1986 with 2 companies and has since developed full programmes in a number of the nations' secondary schools and was recently initiated in the primary schools in 2014.
Bernard Antoine, Chairman of JA Grenada's Board of Directors, thanked the teachers and volunteers who worked along with the students, the major local sponsor St George's University, and other regional partners such as CIBC FirstCaribbean who contributed to the success of the Junior Achievement Programme across the region by signing a 3-year memorandum.
"I was quite impressed by the display of products and services at the trade fair; Each year the quality of the products gets better. This awards ceremony is the culmination of a period of hard work and sacrifice on the part of our students" said Mr Antoine on this year's programme.
Each participating school was tasked with forming a company and making it successful by applying their knowledge and various skills to grow the business. Each company was required to present a business plan, was given the opportunity to display their products and services at an open trade fair, and also present an annual report upon which they were judged.
SJC St Andrew's company 'Cocoa Galore' captured first place in the majority of categories including Most Outstanding Business Plan, Most Outstanding Annual Report and Sales Company of Year — with recorded profits in excess of EC$7,000. At the Trade Fair, they were awarded first place for Most Outstanding Booth, Best Customer Service and Overall Trade Fair Winner.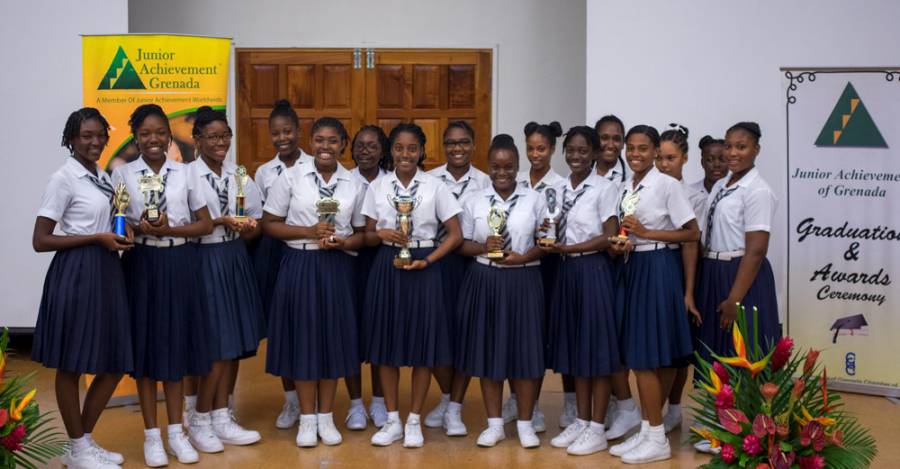 Cocoa Galore's Vice Presidents (VPs) also received 3 of 5 first place awards for 'VP of the Year' in Production (Renia DeRoche), Marketing (Reanna Neptune), and Finance (Avia Dottin). Sister school, SJC St George's company 'Well Dressed' captured 2nd place overall and secured first place for 2 'VP of the Year' awards in Human Resource (Torrie Noel) and Public Relations (Sarsha Newton). President of the Year was awarded to Roshaun Lendore of 'Natural by Nature' — Hillsborough Secondary School, Carriacou.
CIBC FirstCaribbean representative Kasha Ragbersingh expressed her delight that SJC St  Andrew was able to maintain their strong performance in the Junior Achievement programme.
"CIBC FirstCaribbean has been a historic sponsor of the school for many years. They have always displayed initiative, perseverance and high levels of commitment which I attribute to their continued success. I congratulate the students on their accomplishment and I am looking forward to seeing them make their mark in the business community in the near future", she said.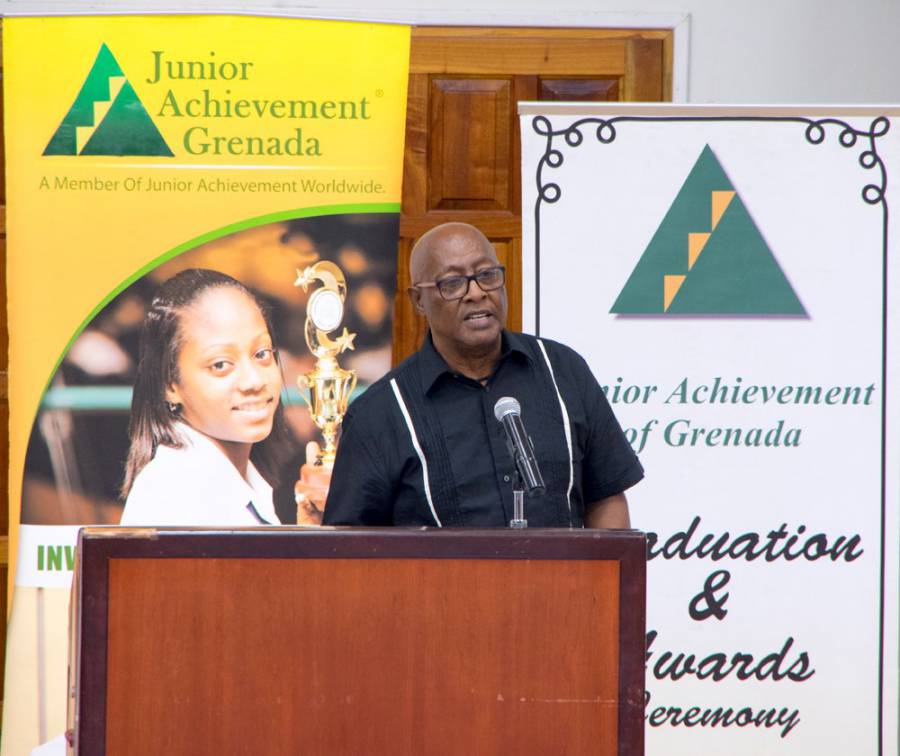 Guest speaker Michael Archibald, Group Operations Officer at Fastcash Caribbean left the students with some meaningful thoughts to consider. "JA is one of the most important programmes we have today. We need to develop more entrepreneurs and small businesses in order to stimulate the economy. I challenge you (the students) break the curse of procrastination and complaining. If you want to do something, then do it, just like you did with your JA companies. Attitude is a little thing that makes a big difference" he said.
It does not end here for Cocoa Galore. They will represent Grenada at the Junior Achievement Company of the Year Awards in the Americas at the end of November 2016.
NOW Grenada is not responsible for the opinions, statements or media content presented by contributors. In case of abuse, click here to report.