Blue satin ribbon set against a mixed backdrop of tropical greenery and a sunlit Atlantic Ocean provided the ideal settings for what was the official commissioning of the Blaize Rain Water Harvesting System on Thursday, 28 July 2016.
Persons stood at a location, that only a year ago was devoid of the grand structures meant to celebrate. Through the vision of NAWASA, the support of the Government of Grenada, and the generosity of the German Government through the German Pilot Programme "Integrated Climate Change Adaptation Strategies" (ICCAS) funded by the German Federal Ministry for the Environment, Nature Conservation, Building and Nuclear Safety, through GIZ, the community of Blaize officially became the beneficiary of Grenada's first Community Based Rainwater Harvesting System.
The fanfare associated with this auspicious occasion was witnessed by personages including Minister of Public Utilities Hon. Gregory Bowen, Minister for Agriculture Hon. Yolande Bain-Horsford, Parliamentary Representative for the Constituency of St Andrew North East and Minister for Sports Hon. Roland Bhola, Mrs Margit Potgier, Honorary Consul for the Federal Republic of Germany, Mr Dieter Rothenberger, Head of GIZ – ICCAS in Grenada, representatives from NAWASA's Board of Directors, Ministries of Agriculture and Finance and of course residents of Blaize in St Andrew.
Residents made their presence felt as they listened to Hon. Gregory Bowen, who is tasked with the responsibility for Public Utilities, share the expectations from this new system. 'This important addition and with their practice of water management I am comforted that the water needs of this community will be met. No more would the residents of Blaize depend on a fortnightly supply from NAWASA's water tankers. No longer shall we hear repeated calls for a piped network that is comparable to other communities within the tri-island state. Today we reveal an alternative for water production and supply in Grenada, Carriacou and Petite Martinique.'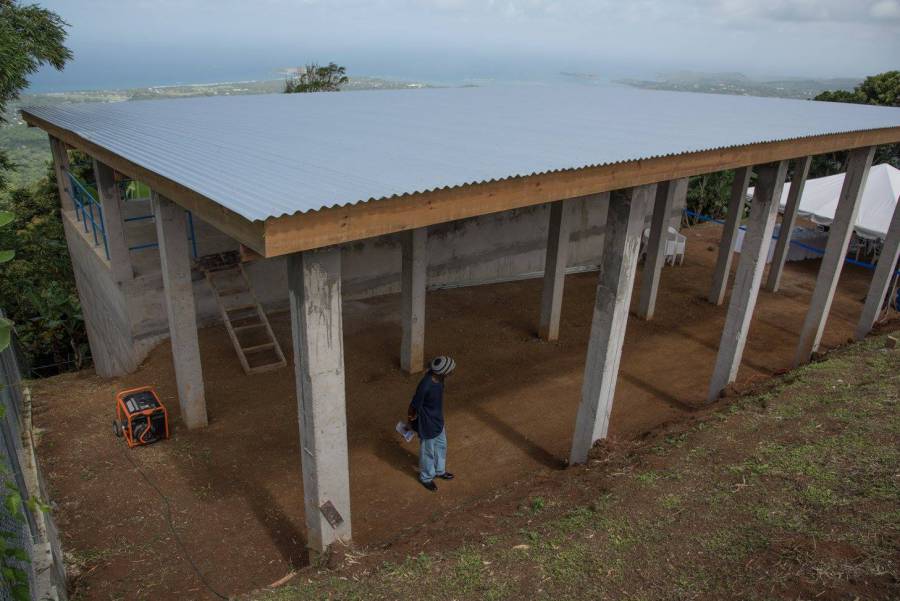 Minister Bhola can surely attest to this project as the realization of a significant goal for the community, a watershed achievement in Grenada's history fought hard by him as Parliamentary Representative and NAWASA. 'Entering politics as a Senator, and being aware of the adversities faced by residents of Blaize in regards to water, I vowed that I will do whatever it took to ensure that the residents receive an adequate supply. Fourteen years, and an umpteen number of failed projects later, I am elated to still be here to share with you this moment in history.'
NAWSA's General Manager Mr Christopher Husbands was among those in a celebratory mood. He mentioned that the journey was a long time coming, he has been hiking the roads of Blaize when he was an engineer before he became General Manger of NAWASA. "My travails were put on pause three years ago when I proposed this project during an inaugural meeting between myself and Mr Dieter Rothenberger — Head of the German/Grenada Pilot Programme. I knew from that very meeting that this was the answer I have been searching for all along. Finally, we are able to meet the greatest need of the Blaize residents simultaneously giving teeth to our tagline, committed to meeting customers' needs."
An emotional presentation on the Board's behalf was delivered by Board Director Mr John St Louis "To the residents of the Community of Blaize, NAWASA thanks you for your patience. It is our hope at NAWASA that you share our pride in this system and assist NAWASA in ensuring that it continues to serve your community well for years to come. As an organisation NAWASA looks forward to continued innovation and development, to ensure other communities throughout the State of Grenada are beneficiaries of similar projects, so that one day we can stand and proudly say that potable water is accessible by every home, school, church, business or any other entity in Grenada."
Mrs Margit Potgier, Honorary Consul for the Federal Republic of Germany, stated that she is blissful to be able to witness such a historic moment for the people of Grenada. "Germany is a strong advocate of Climate Change Strategies and having a small island as Grenada as a partner in such an important matter is a big deal. Rain Water Harvesting is one way that we can adapt to Climate Change this is why this project is evidently a major one for us."
Among the many immediate benefits of the EC $370,000 project is that of providing a more reliable water supply to satisfy the domestic needs of the residents and improved hygienic conditions in their homes.
Now completed, rain water is harvested in a 15,000 square feet rain water roof catchment with a galvanised sheet cover; storing of rain water in a 50,000 gallons reinforced concrete tank; and piped distribution network from the tank to supply water to individuals' homes. There are plans by the Authority to seek funding for an additional 50,000-gallon system in the not too distant future. Once materialized, Blaize will be fully covered with a supply of potable water.
NAWASA's Board of Directors made the decision to waive the connection fee which evidently is good news for the residents. Many have already embraced the decision and have received their connection and today are enjoying the benefits of an adequate water supply.
NAWASA
NOW Grenada
is not responsible for the opinions, statements or media content presented by contributors. In case of abuse,
click here to report
.