To date, 26 amputees have received below the knee prosthetic legs from the local organization, Attach A Leg Grenada, since it was first founded 2014.
The vision for the project was initially formed in 2012, following a visit by Ossur Kristinsson — founder of OKProsthetics in Iceland — a former colleague of Gylfi Hilmisson, who spearheads 'Attach A Leg Grenada'. Hilmisson worked as a Prosthetics Engineer for 12 years in Iceland and the USA, and along with his colleague, identified the need for affordable prosthetics in Grenada.
Managing Director of Prickly Bay Marina, Darren Turner, recognized the value that 'Attach A Leg Grenada' brings to individuals in deserving communities, and offered the support of his company via a generous donation which was able to provide two prosthetic leg fittings.
Raquel Matika–Turner, Manager of Prickly Bay Marina followed up with 'Attach A Leg' to gain a better understanding of the organisation, and the persons who have benefitted from the initiative. "It was surprising to learn about the number of amputees who were left immobile, and without the means to support themselves and their families, due to their disability. It is our hope that through our support, we will empower some of these individuals so that they are able to return to the workforce" said Mrs Turner.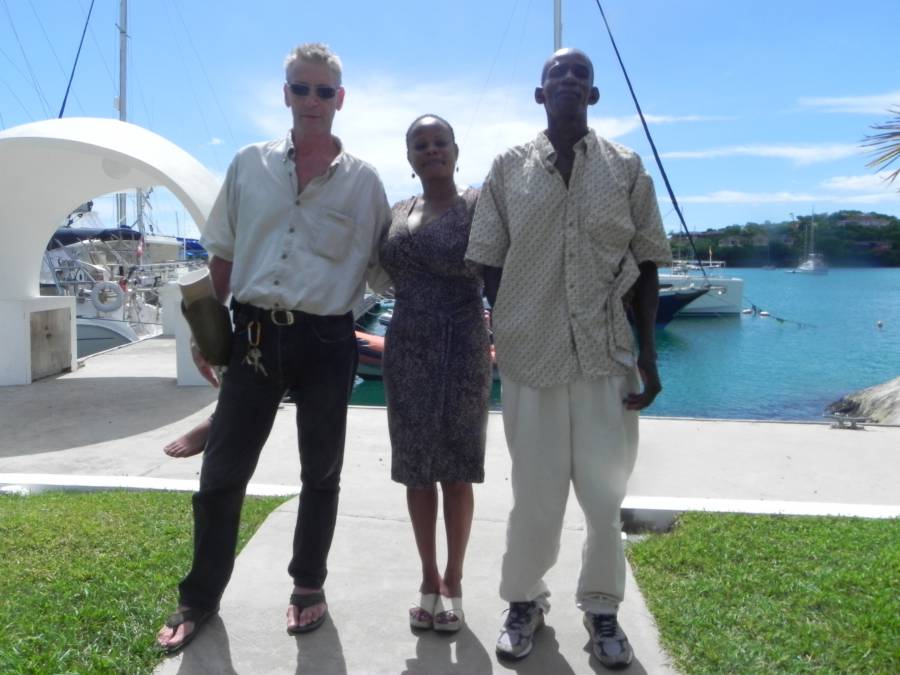 Hilmisson noted that amputees awaiting prosthetics are between the ages of 35 and 70 years old. The most common cause for amputations in Grenada are complications arising from diabetes, followed by wounds inflicted by machetes. 'Attach A Leg Grenada' was founded because there were a number of amputees, at home and on the streets, who not only lost their mobility, but also their means of earning an income. "The majority of amputees in Grenada have very limited resources and income, and as a result are unable to obtain the funds for a prosthetic limb. I am extremely pleased that through the efforts of 'Attach A Leg Grenada', amputees have been given back their mobility, and as a result have regained their independence and have become self-reliant" Hilmisson stated.
'Attach A Leg Grenada', through the assistance of the Grenada National Council for the Disabled (GNCD), has identified over 26 amputees who are in need of prosthetic legs. Once the funds are received to outfit a patient with a prosthetic leg, 'Attach A Leg, Grenada' oversees the production and fitting of the leg, and along with the support of GNCD and the General Hospital, will provide access to the necessary physiotherapy and rehabilitation services.
Fabian Greenidge, one of the first beneficiaries of 'Attach a Leg, Grenada' was also present, and expressed his gratitude to the management of Prickly Bay Marina for their contribution. He also noted the significant difference their involvement has made in the lives of persons who benefited from their donation.
Hilmisson thanked the private sponsors, Government of Grenada, GNCD, Prickly Bay Marina and other companies that have contributed towards this initiative, and encouraged others to join the cause to empower the disadvantaged in our communities. To donate, interested persons can contact Mr Hilmisson via at [email protected], (1 473) 416-5535 or 406-6203.
Prickly Bay Marina
NOW Grenada
is not responsible for the opinions, statements or media content presented by contributors. In case of abuse,
click here to report
.