by Linda Straker
11 years after signing the document to resume diplomatic ties, Grenada on Tuesday night reaffirmed its commitment to the One China Policy.
"We are confident that this relationship will continue to grow and develop. It was certain then, and certainly now that this relationship will continue to bring the type of comprehensive development in our bilateral relations," said Foreign Affairs Minister Elvin Nimrod, when he spoke at the ceremony to mark the 67th anniversary of the Founding of the People's Republic of China.
Nimrod, who was the Minister to sign the document to resume relations, told the more than 150 guests at the Radisson Crown Ballroom that over the years, one of the significant achievements is the ever-increasing number of persons to participate in the people to people exchange programmes. Over the years, hundreds of persons have participated in workshops, seminars, conferences and training aimed at development professionals, while others have completed university studies with bachelor's or master's degrees.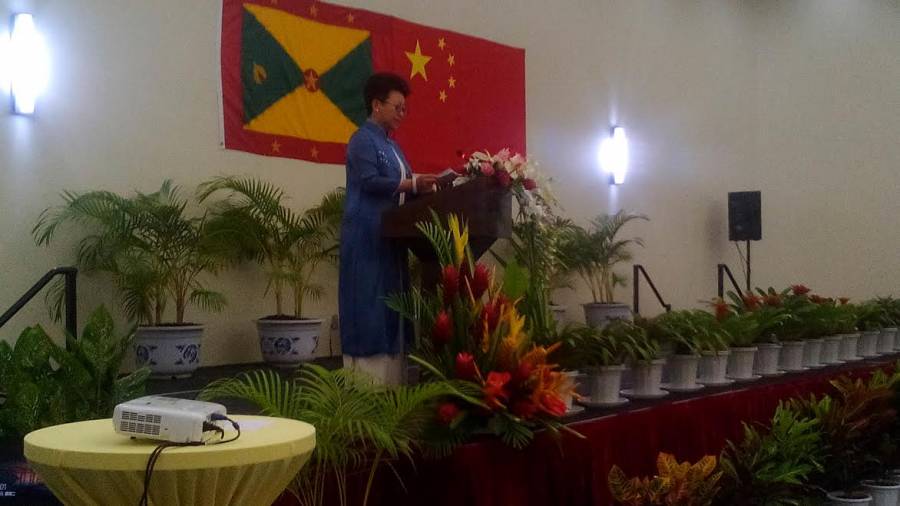 In her remarks, Ambassador Ou Boqian said that since the resumption of diplomatic ties, bilateral relations have been consolidated through dynamic exchanges and cooperation, as together both nations have witness the comprehensive development of bilateral relations and fruitful cooperation in all fields.
"Unprecedented practical cooperation and people to people exchanges invigorate the friendly relations," she told the audience, which comprised of Head of State Governor General Dame Cécile La Grenade, Acting Prime Minister Gregory Bowen; other members of Cabinet, Members of Parliament; members of the Diplomatic Corps and other special invited guests.
Speaking on the development of China in the past 67 years, she said that earth-shaking changes have taken place in China since the founding of the PRC with a population of 1.3 billion. "Tremendous achievements have been made by Chinese people who have overcome numerous and unbelievable difficulties with a high spirit of unity, confidence, perseverance and courage," she said.
"Since strategic policy to reform and opening up was implemented in 1978, economic miracles are made in China," she boasted, while highlighting that China's GDP in 2015 was nearly 52 times that of 1978's. Its growth moved from US$212 billion to nearly US$10.9 trillon, and the share of China's economy accounting in the world economy rising from 1.8% to 15.5%
NOW Grenada
is not responsible for the opinions, statements or media content presented by contributors. In case of abuse,
click here to report
.