For the second year in a row, St Augustine's Medical Services (SAMS) joined this worthy initiative, contributing the services and presence of its ambulance and medical personnel. Several members of the SAMS team also took part in the walk from the GCNA complex on Kirani James Boulevard to the Morne Rouge Playing Field.
Mrs Allyson Amechi, Administrative Director for SAMS commented; "SAMS is very happy to offer support for such a critical area as the care and awareness that needs to surround this sadly growing disease. Consequences for individuals suffering from cancer and the toll on their loved ones can be mitigated, to some extent, by programmes and organisations which receive support from events such as 'Walk for the Cure'. The growth in participation and support from the local business community, here in Grenada, is a clear indicator of their awareness of this."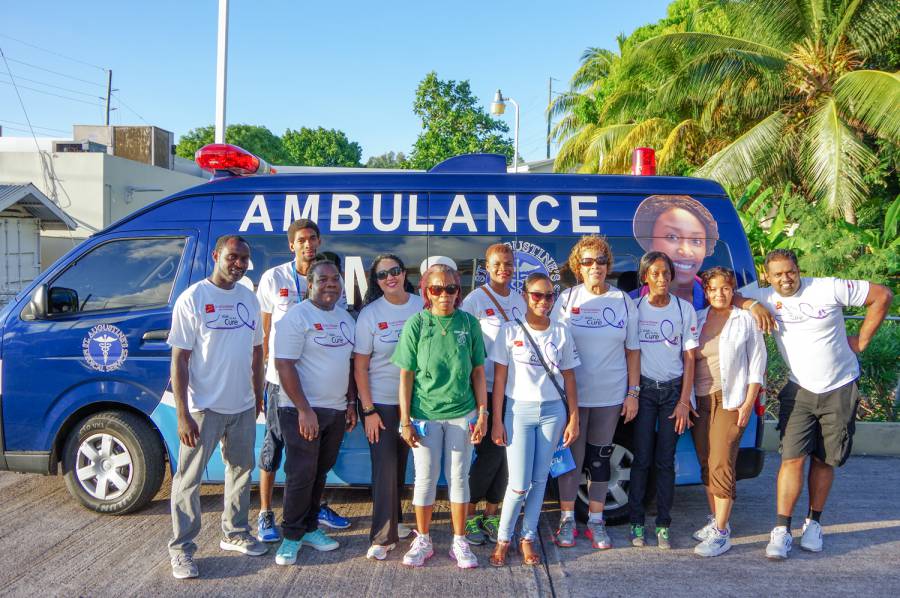 "We are also pleased that SAMS role in this campaign forms part of a wider regional awareness effort, as CIBC FirstCaribbean is fundraising across 17 territories. However, we are even more happy that there will be a contribution made to our own Grenada Cancer Society so that funds raised by the bank will be used right here on island" stated Dr Amechi – co-owner and resident physician at SAMS.
The Walk was followed by a short programme at the Morne Rouge playing field, in support of those who have suffered and are suffering from cancer. The public is encouraged to be aware of the fundraising activities which will take place throughout 2017, leading up to The Walk, and as many persons as possible are encouraged to join.
NOW Grenada is not responsible for the opinions, statements or media content presented by contributors. In case of abuse, click here to report.