The Grenada Tourism Authority (GTA) has thrown its support behind artists representing Pure Grenada at the prestigious 57th Biennale de Venezia in Venice Italy, from 13 May to 20 November.
In a brief ceremony held recently at Art and Soul Gallery in Grand Anse, the GTA and local organisers signed a sponsorship agreement to support the Grenada Pavilion titled 'The Bridge'.
Commissioner for the Grenada Pavilion Dr Susan Mains thanked the Authority for its contribution saying, "Grenada's first participation as an official national pavilion in 2015 at the 56th Biennale de Venezia was historic, putting the country on the international contemporary art map. Many linkages were formed, giving Grenada even more exposure in the ensuing period."
Signing on behalf of the GTA was Product Development Manager Kirl Hoschtialek. She had the opportunity to view firsthand the work of Asher Mains, one of the artists to be presented at the Biennale. The artistic work of the Pure Grenada representatives is based on promoting awareness of environmental issues. Hoschtialek said, "The work is inspirational and shows the linkages between Pure Grenada and the sustainability of the destination."
The headliner artist for the Biennale is Jason deCaires Taylor, globally known for his underwater sculpture parks; his first being in Grenada. He will debut new sculptures as well as display photos of his work in Grenada.
Asher Mains will exhibit 'Sea Lungs' which portrays the life and death of the reef, and the human relationship with the sea. Speaking of his work, which was previewed at the gallery on 12 April, he said, "The installation is about the reef responding to itself in decline and the faces put a human touch to this environmental concern."
The third artist joining the Grenada Pavilion is Milton Williams, whose technique centres around the act of collecting. His work requires extensive travel, during which he collects objects of everyday life from the countries he visits. The work being shown in the Grenada pavilion will be an installation of some of these objects.
This is the second time Grenada will participate in the Biennale de Venezia and the second time the GTA is supporting the venture, as this is a great opportunity to promote Pure Grenada the Spice of the Caribbean in continental Europe for a prolonged period. Dr Mains urges other organisations to support Grenada's participation.
Source: GTA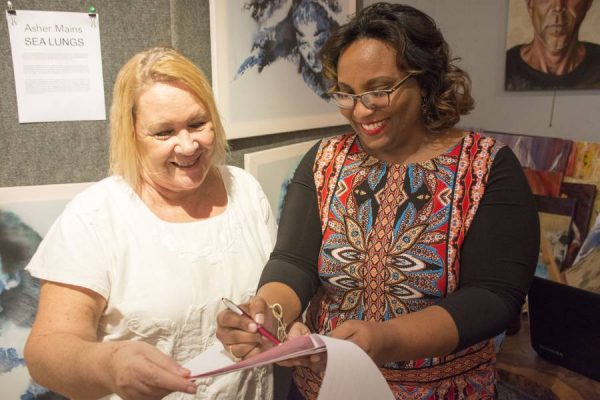 NOW Grenada is not responsible for the opinions, statements or media content presented by contributors. In case of abuse, click here to report.