Here's how a lot of us spent Easter. One week after the cadets had taken the trouble to clean the rocks between the cruise port and the bus terminus, the gaps between the rocks were being filled again.
The road between Bathway and River Sallee was strewn with litter. Pearls Airport was like Perseverance, thinly spread.
Is this how you would wish to find it?  Then why do you leave it like this? Why so much disrespect for our country, our home?  Is this the best way to celebrate the Risen Christ? Does your yard look like this? Would you be proud if it did?  Would you be happy for the neighbours to see it like that? (But Pearls, Bathway, the shoreline ARE our backyard). Why the active encouragement of rats and mosquitoes? Did you 'enjoy' Chikungunya?  Are you asking for more?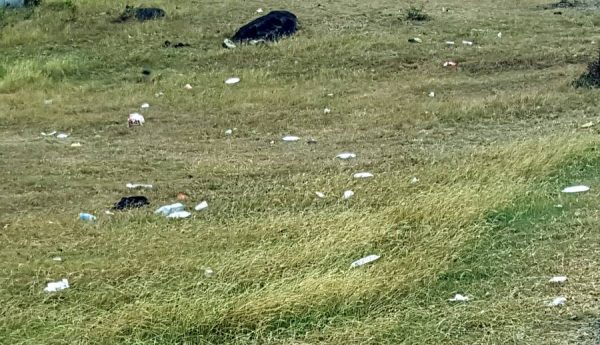 The Bathway and Pearls pictures were taken by a tour guide. How would YOU get across the idea of 'Pure Grenada' — or is this a deliberate attempt to sabotage the tourism industry, along with all the jobs that go with it? Do we want 'no go' areas for tourists?  How could we avoid them, with our road system?  And what about ourselves?
It's not somebody else's job to pick up litter.  It's the job of all of us not to drop it.  Prevention is better than cure – but there is no 'cure' for Dengue, Chikungunya and Zika. We have to do better than this.
Grenada Green Group
NOW Grenada is not responsible for the opinions, statements or media content presented by contributors. In case of abuse, click here to report.