by Curlan Campbell, NOW Grenada
Tamboulay to supply toys reflecting Grenadian heritage and sporting prowess
Kevin Dolland creates toys and children's literature for the Grenadian market
A fascination with toys at a very young age has propelled Kevin Dolland to start his company, Tamboulay, which supplies toys reflecting Grenadian heritage and sporting prowess. "I love toys. As a child, I had over a hundred of them; the majority were action figures. From wrestlers to superheroes, playing with those toys took up the majority of my time in my childhood, and I absolutely loved them."
The 34-year-old was inspired by two defining moments: the birth of his 2 children, and the experience he garnered working with his father's company, Spice Basket – experiences, he said, that formed the catalyst which triggered this bold move. He stands proudly behind his artistic creation of action figures inspired by real-life local sporting icons, including former West Indies cricketer Junior Murray, and Olympic gold medallist Kirani James.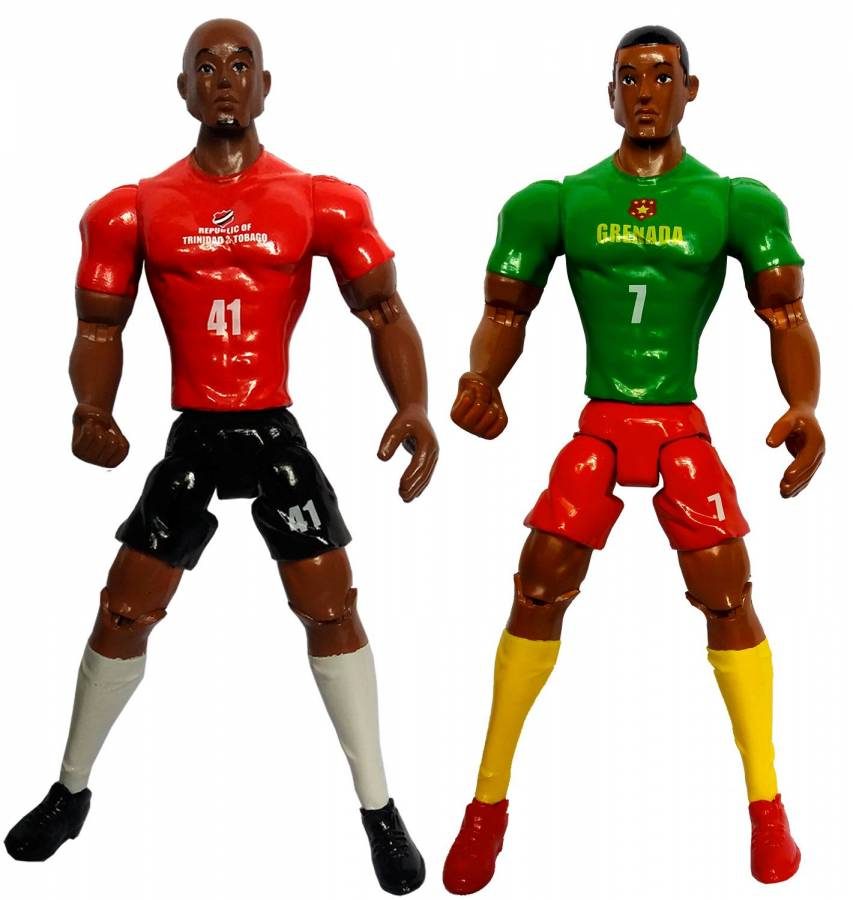 Dolland told NOW Grenada that just like in his childhood, his daughter's toy collection grew quickly, and it was then that he noticed that it was hard to find toys that reflected her background. "It isn't enough to have a toy that is black; I felt like another step was needed and the toys should represent her far beyond just race."
And with his children being his prime motivation, Dolland pursued his dreams by designing toys and children's literature for the Grenadian market. These products include Grenadian, Trinidadian, Jamaican and Barbadian football and cricket action figures.
Dolland said, "During the design process, it felt like the 8-year-old me took over, and I began designing based on the passion for toys I had when I was a child. I wanted to create toys that children can easily identify with and a quality that is consistent with any toy they may already have in their toy box."
Alongside these action figures are 2 children's books. "Carey and Cassie's Olympic Dreams" is about Olympians representing Grenada inspiring siblings to dream about taking part in non-traditional Olympic events, like rhythmic gymnastics, sailing, and tennis. The book "Junior Murray's Camp Wicket" teaches the value of team sport. Both books come with stuffed toys.
Dolland has also introduced a cyborg police officer named "The Corporal," a superhero named "Lion Paw" which is based on the Rastafarian culture and "Ajay," the African inspired Grenadian drummer. Each action figure – some with accessories for added fun – is produced in the People's Republic of China and comes neatly packaged.
The origin of his company? "When I decided to actively pursue the concept of developing a company that produces cartoons, toys, and children books that are reflective of different passions and cultures, I wanted a name that gave that same energy of passion and culture. Eventually, I came across the word Canboulay, which has historic roots to carnival and the origins of calypso. So, Canboulay inspired the name Tamboulay."
Dolland is enjoying every moment of his journey as he realises his dreams of becoming an entrepreneur, but he admits that there are hurdles to be overcome in the process. "What gets me through all of them is the passion of creating content that I believe in and the commitment to follow through on what I have started. The main thing I got from my family is to be dedicated to the job that I am undertaking and knowing that there are no shortcuts to success. Whatever challenge comes my way, I need to embrace it and deal with it with a positive mindset."
Dolland believes his creative direction is in keeping with Caribbean sporting tradition, with the storyline of each character formulated. "Playing cricket is the only activity that the Caribbean comes together under one banner to compete with the rest of the world. Every other activity, the islands compete as individuals, so I felt it important to create a Caribbean cricket toy that children across the region can play with. Superheroes and mythology are popular toy categories, so I wanted to create superheroes that are inspired and based on Caribbean culture."
The expansion of the company will see the introduction of series of toys for girls which is currently in development as well as animation and other forms of productions that will seek to share Grenada's culture around the world. "Already the company has received the endorsement of Junior Murray who is expected to partner with the company on this venture throughout the various schools around the island," Dolland said.
The toys are available online at Amazon and will be introduced into many stores across the Caribbean within the coming months. Anyone interested in making a purchase can visit the company's website tamboulay.com, or on instagram.com/Tamboulay, facebook.com/tamboulaystudios and via founder's email [email protected].
NOW Grenada
is not responsible for the opinions, statements or media content presented by contributors. In case of abuse,
click here to report
.