As the battle to control the lionfish population in Caribbean waters intensifies across the region, The Sandals Foundation, in partnership with the Ministry of Environment-Fisheries Division, and with support from their Grenadapts programme and the Grenada chapter of the Caribbean Youth Environment Network, recently hosted a Lionfish Expo and Cooking Demo on Grand Anse Beach to amplify the message to Grenadians and guests that eating the invasive fish species is the best way to control it.
The lionfish is wreaking havoc on reefs and the marine ecosystem across the region, destroying stocks of other fish populations by consuming young native fish. It multiplies very quickly and has no natural predator, making hunting them the only sustainable way of controlling the population.
Environmental Officer for the Sandals Foundation, Jonathan Hernould said, "Education and awareness is one of the most important aspects of marine conservation. By hosting this expo with live cooking demo, we hope to convince the people of Grenada and our guests that the lionfish is completely safe to eat and that the best way for them to help control its population is to eat it."
Sandals Resorts hosts a weekly lionfish hunting dive that engages guests at the resorts to go out on dives to hunt the lionfish.
Watersports Manager for the resort, Devon Boota explained, "Many of our guests have never heard about lionfish however most of our guest divers are lovers of the ocean so the onus is on us to peak their interests and make it an informative but fun activity. Oftentimes after a catch when we filet the fish we show that it has a belly full of smaller colorful fish that they like to see on a dive. By that time, we have sealed the deal and they spread the word to other guests."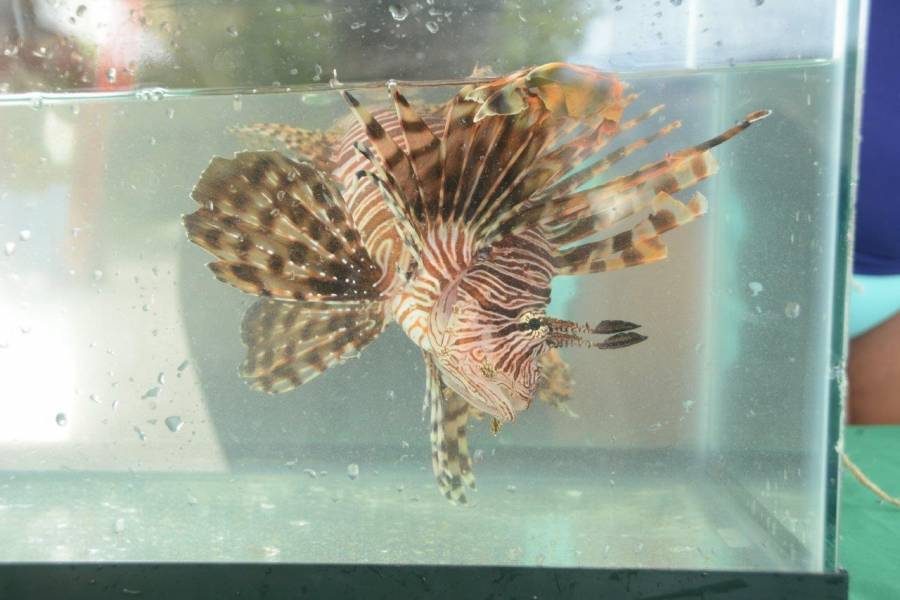 The Grenada Fisheries Division displayed an aquarium with a live lionfish for non-divers to see the live fish. Beachgoers remained close to the grill, as one of Sandals Grenada's top chefs, Doniella Thornhill, prepared a tasty lionfish meal, which was offered free of charge to anyone wanting to give it a try. "It's a lovely flakey white flesh fish, similar to snapper so it doesn't need much work. It's very easy to work with and you can play with it and be as creative as you want to be," she explained to the throng of curious onlookers.
The Lionfish Expo also coincided with the 4th annual Professional Association of Diving Instructors (PADI) International Women's Dive Day with the resort hosting international women divers and press for the occasion. PADI Women's Dive Day is an effort to promote and celebrate women scuba divers and encouraging them to better themselves through self-improvement.
PADI Social Media Consultant, Emily Bates commented, "Sandals Grenada, alongside Sandals Foundation, did an incredible job uniting PADI Women with the local community to dive, enjoy a lionfish lunch, music and learn more about protecting Grenada's beautiful 'reefscapes' and marine life – something that PADI is equally passionate about."
National MPA (Marine Protected Areas) Coordinator, Orlando Harvey, said, "The Grenada Fisheries Division was very happy to partner with Sandals Grenada in this very important event which had the dual function of raising the profile of women in diving and calling the general public to action against the negative impact of lionfish on our marine resources. If we all play a small part by adding lionfish to our menu at home, our campaign to 'eat it to beat it' would be a resounding success."
International journalists were present from Scubapro, Sport Diver Magazine, Scuba Diving Magazine, Popsugar and Mic to participate and celebrate in both activities.
Sandals Foundation
NOW Grenada
is not responsible for the opinions, statements or media content presented by contributors. In case of abuse,
click here to report
.