by Curlan Campbell, NOW Grenada
Last year's postponement left bands in the red
Bands not yet given result of inquiry commissioned by government
Stage will be up early to accommodate Junior Panorama
President of the Grenada Steel Band Association (GSA) Jason Skeete has reassured its members and the public that last year's unfortunate postponement of Panorama will not be repeated. Last year's postponement saw Prime Minister Dr Keith Mitchell calling for a full investigation.
Panorama, a premier Spicemas event, was inadvertently postponed due to the stage in front of the Junior Murray/Rawl Lewis stand at the National Stadium, not being completed in time, resulting in bands unable to perform.
Speaking with NOW Grenada, Skeete said due to last year's humiliation, all of the stakeholders involved now owe it to the public to ensure that this incident is not repeated. "We owe it to the public to be able to redeem ourselves. From where we sit we have to play our role to ensure that something like this doesn't happen again. As it relates to making sure that things are in place for 2018, we have spoken to 3 independent contractors and engineers, we have already narrowed it down to one contractor. We also worked along with Spicemas Corporation and the Government of Grenada through Hon Norland Cox, so now the stage for Panorama will be erected in the identical position it was intended for last year in front of the Junior Murray/Rawl Lewis stand."
Skeete said a number of factors was taken into consideration when deciding on the position of the stage. "We want to make it a little bit more intimate because when you look at the location of the stage as opposed to the audience, we wanted to bring it closer to them and we also wanted to make sure that there is easy access for bands going on and off the stage and being able to exit the event without disrupting the patrons. So, Panorama is set for 11 August 2018 at 7 pm, the National Stadium and the stage will be up early to accommodate Junior Panorama, so even if the people from the CCF want to use it they will have access."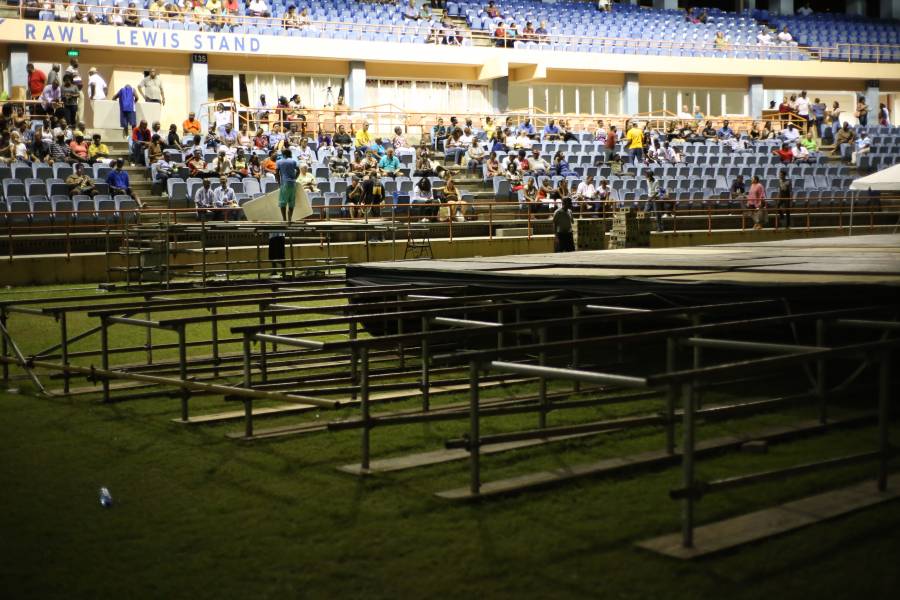 Meanwhile GSA general council member and Manager of Republic Bank Angel Harps, Brian Sylvester says almost 9 months have passed since the postponement of last year's Panorama and bands have not been given the result of the inquiry commissioned by the government.
"Presently I sit on the general council of the steel band association, and so I am privy to certain information stemming from those meetings, and one of the things that was recommended by the general council to the association, was that there should be a bimonthly report as to the status of this report commissioned by the prime minister. Now today we have not heard anything about that report."
Sylvester said last year's postponement left bands in the red. "Look at the band like Angel Harps, for instance, our preparation is always $60,000 – $70,000 when it comes to getting the junior and senior bands into competition and with no competition last year all that expenditure was done upfront. Prize monies were summed together and divided equally which was fair, but it left us short in the sense that we are always in this competition to win. The top prize money is $45,000  so that is something we always aim for, so to get $20,000 at least for us is a pitfall in terms of what we were expecting to earn to help us offset some of the expenses, but all the other bands have the same situation."
Another issue facing the art form is the staging of private event Xtreme White on the same night as Panorama. Skeete said the issue has been quite a ticklish situation but promises that a solution will be found.
"We have to understand that it is not entirely our fault as pan but we have to take some responsibility because the reason why a promoter will choose to have an event on the same night as Panorama is that he saw an opening, and being a studious businessman he will use the opening and what we would have done to create this opening? We have to do the assessment and find ways to fix it but in meantime, this man has to a product. Now, strangely enough, the same sponsors for his product, corporate Grenada, are the same sponsors we are going to. So do I sit and cry down a sponsor for this product but tell him support mine? So what we have done in conversation with the minister and I have said that we would love that there are no competing events on the night of Pan but we know it can't happen overnight, so we want this year to prove ourselves to show that we are serious about the way we do things."
Regarding subvention, Skeete said all bands have received their subventions and as a bonus, bands outside of St George will be given transportation allowance to get to the venue.
"The association has lobbied for bands outside St George's who spend a lot of money on transportation to now be compensated at least in part for their transportation allowance to come to Panorama, because how do I feel as the president knowing that a band is receiving $4,000 or even $6,000 in subvention quite up in St Patrick or St Andrew and have to spend $4,000 out of that just to travel to participate in the competition."
During Monday's press conference held by the Spicemas Corporation, Skeete indicated that effort is being made to restructure Panorama in order to improve the product.
"So far one of the things that the public would have called for is to make sure that when they come to Panorama, they want to know what the bands are playing beforehand; because over the years we have had situations where the arranger goes into his room and composes his song and by the time they get to Panorama night only the players know that song that they are playing, and patrons are clueless. Clearly bands took the decision this year to play songs that the public is familiar with. We have bands this year playing songs like Val Adams Bumsy (I Ain't Leaving It), we also have bands going as far back as playing Jennifer by Inspector, so really and truly even though we know that some bands have done it in the past sporadically, what we have seen this year is that all bands would have decided that this is the direction in which we are going."
This year during the intermittent period, Panorama will also feature performances from the La Boucan Creative Centre and others to keep the public entertained
NOW Grenada
is not responsible for the opinions, statements or media content presented by contributors. In case of abuse,
click here to report
.