by Curlan Campbell, NOW Grenada
Martyrs Foundation moving forward to make 19 October a national holiday of reverence and reflection
Call for Fort George to be converted into a museum
The Maurice Bishop, and October 19th, 1983 Martyrs Foundation has long called for 19 October to be designated a national holiday. This year, the foundation's chairman, Dr Terence Marryshow will not wait on politicians to make this a reality, heeding the call made by His Lordship Bishop of the Diocese of St George's in Grenada, Clyde Harvey. "You do not have to wait on politicians to make this day a day to remember, a day that will become so powerful in the imagination of our young people that they may want to be a part of it."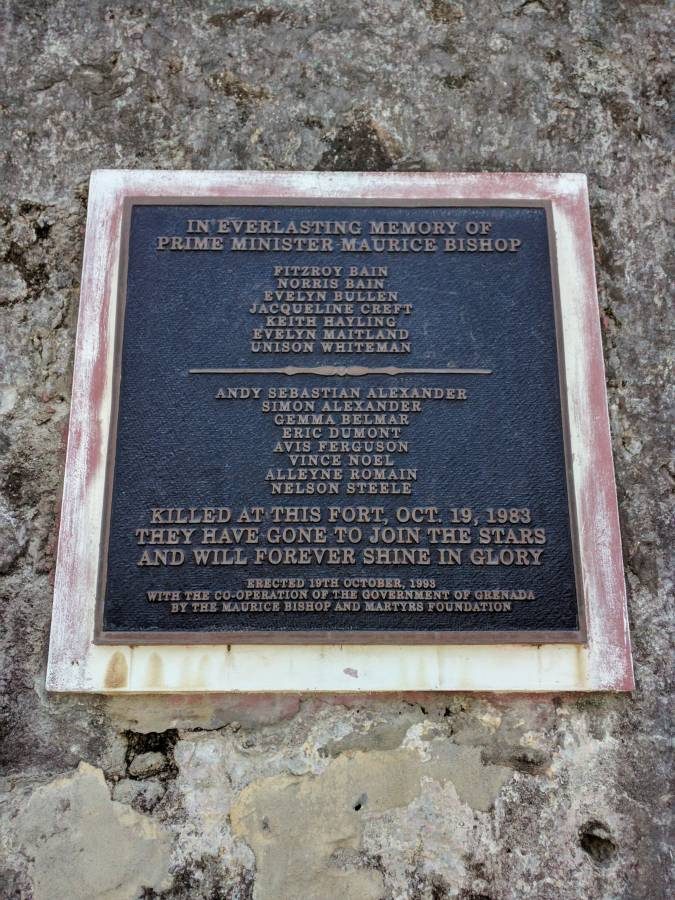 During the annual memorial service held last Friday in the courtyard on Fort George, Bishop Harvey admonished the foundation to start planning next year's memorial service immediately after the completion of this year's service. "..because if you wait on Politicians nothing will happen and, therefore, I want to urge very strongly that the foundation doesn't wait until next year to plan. Begin today to begin plan next year's 'today' tomorrow."
Dr Marryshow, who is a former People's Revolutionary Army (PRA) officer believes this is the right step forward in ensuring that the lives lost will not be forgotten. He believes it is a grave mortal sin not to have 19 October made into a day of remembrance celebrating the lives of heroes and martyrs as is customary in other countries.
"Our entire recorded history while we celebrate and have public holidays for many other events, there is not a single day in our history that has been dedicated to commemorating and celebrating the lives of our heroes and martyrs, those who gave their lives for the cause of Grenada."
Dr Marryshow commended the bishop for his forthrightness in driving home the message to have 19 October a day to commemorate Grenada's heroes and martyrs. "I don't think that there are words so resounding in recent history as the words of the Bishop. When he said don't wait for politicians, I think that is a call we have to heed because we have waited for 35 years and nothing really has happened. After 35 years we are still nowhere close to knowing what happened to the remains of those who lost their lives 35 years ago. We are nowhere close to having Fort George, which is sacred ground, converted into a national museum."
The call continues to have Fort George to be converted into a museum to preserve its history at risk of being lost.
"School children who hardly know about what transpired during the period of October 1983 and going back to 13 March 1979 can come right here and learn. When we look at this abandoned building it can be converted into a proper museum, so we are not going to wait on politicians anymore."
Dr Marryshow said going forward a committee will be formed to ensure that 19 October is given reverence and declared Heroes and Martyrs' Day. "When I say a holiday, I don't want it to sound like we are looking for just another day to go to the beach or for fun and frolic, but we are talking about a day of reverence and reflection."
25 October 1983, which marked the US invasion has been officially recognised as Thanksgiving Day, a national holiday in Grenada, Carriacou and Petite Martinique.
NOW Grenada is not responsible for the opinions, statements or media content presented by contributors. In case of abuse, click here to report.