by Curlan Campbell, NOW Grenada
FIU has until December 2019 to submit technical compliance questionnaire to CFATF
Multisectoral grouping engagement was held on Thursday, 18 April
Institutions encouraged to establish specific department for monitoring money laundering and terrorist financing
The Financial Intelligence Unit (FIU) is preparing for its 4th round Mutual Evaluation by the Caribbean Financial Action Task Force (CFATF) scheduled to take place in the 2nd quarter of 2020. As part of their preparation, the FIU has started engaging key financial and other related players in what was termed 'multisectoral groupings' to help them understand what will be required of them once the evaluation is underway, and to work on the Anti-Money Laundering and Combating Terrorist Financing Technical Compliance questionnaire which must be presented to the task force prior to their arrival. The FIU has until December 2019 to submit the completed questionnaire to CFATF.
The multisectoral grouping engagement on Thursday, 18 April provided an understanding of the task force's 40 recommendations to officials from government, immigration, banking sector, credit unions and police.
Head of FIU Grenada, Tafawa Pierre indicated that this is intended to help countries develop the expertise necessary for their compliance with the Financial Action Task Force international requirements to combat money laundering and terrorism financing and to ensure that the legal framework is in place and is effective. "There are national implications, for instance, if we are rated poorly in certain fundamental areas that throw the country in a bad light, we can be listed unfavourably and it can have direct effects on our financial system, our banking system and on our corresponding banking relationships and our ability to do business with foreign investment. So how can we approach this and not speak with all the stakeholders involved to ensure that we have a national understanding of how important every entity is?"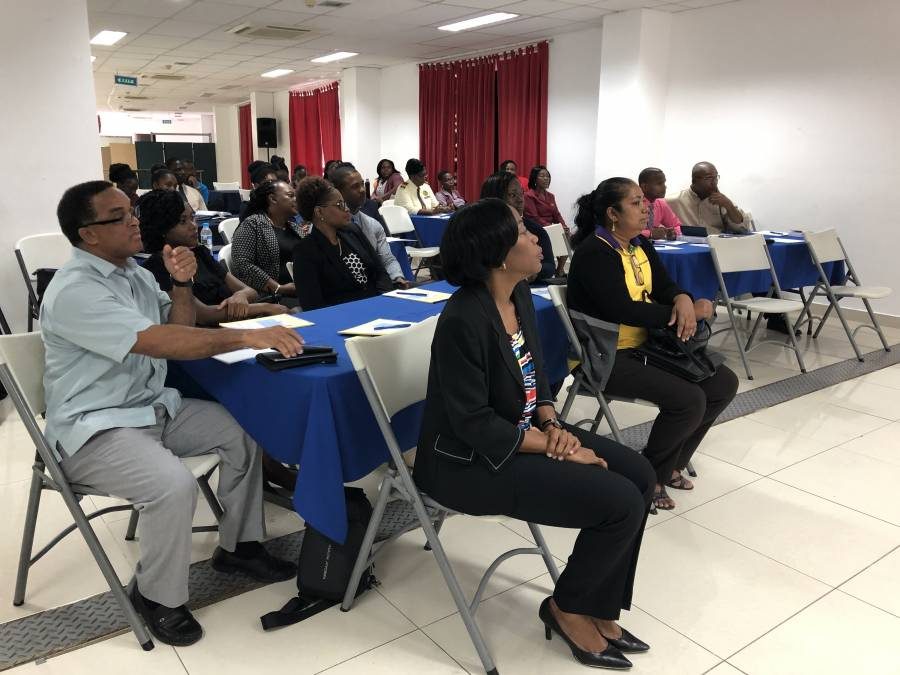 FIU officials are gathering data to determine parts of the system that are of higher medium or low risk for money laundering and terrorism financing and are also strengthening the relationship with all money laundering officers or compliance officers within various financial institutions who are mandated by law to report directly to the FIU.
Pierre reiterated that the person chosen to be the compliance officer must not be the general manager, and said most if not all institutions had satisfied that requirement. "Most of the institutions if not all, have appointed such an officer and the relationship with them, of course, has been strengthened. There are certain administrative penalties, you can be fined up to $200,000 for not having these officers and other systems in place," said Pierre.
The FIU is also mindful of the fact that other businesses apart from financial institutions, such as real estate agencies and motor vehicle dealerships among others can pose a serious risk to the financial sector if they are not compliant with the due diligence process needed to vet their customers. Pierre encourage institutions to set aside budgetary allocations to establish a specific department with the sole purpose of monitoring and combating money laundering and terrorist financing. "If as a company your asset base is between one and five million, it might cost about $50,000 to set up. Seriously, I am talking about on the low end, so the conversation on improving the regime must include money, because we hear that sums of money are being spent on a new building, new offices, etc, but nobody speaks about fighting money laundering and terrorist financing and really, that should be the central focus of your business because one bad transaction can topple you."
The last Mutual Evaluation Report relating to the implementation of anti-money laundering and counter-terrorist financing standards in Grenada was undertaken by the Financial Action Task Force (FATF) in 2009. According to that evaluation, Grenada was deemed Compliant for 4 and Largely Compliant for 9 of the FATF 40 + 9 Recommendations. It was Partially Compliant or Non-Compliant for 5 of the 6 Core Recommendations.
NOW Grenada is not responsible for the opinions, statements or media content presented by contributors. In case of abuse, click here to report.