by Curlan Campbell, NOW Grenada
Amerindian burial site under siege by wave action
Remains have been undisturbed for over 1,000 years
Archaeological remains found are placed in Grenada National Museum
A struggle is being waged on two fronts to excavate the remains of an Amerindian burial site in the north of the island under siege by wave action.
Since 2018, archaeologists have been attempting to document and salvage the skeletal remains of Amerindians who once settled in the area located in Sauteurs, St Patrick. Their remains have been undisturbed for over 1,000 years but after the recent construction of the Breakwater Project which was meant to protect the town from wave action, residents have started to witness the destructive heavy sea surge pushed further down the coast, which has started to expose the burial site.
A team from Leiden University led by Professor Dr Corinne Hofman started the rescue mission in 2018 and found skeletal remains and artefacts. The bones collected are presently being analysed.
The earliest archaeological remains are carbon-dated to be around 600 AD and since then to the year 1650, there have been many Amerindian settlements in the region.
Archaeologist Jonathan Hanna, who was then a student at Penn State University, assisted in the emergency excavation back in 2018 and has since returned upon the completion of his doctorate in Anthropology to continue the fight to preserve Grenada's cultural heritage.
Dr Hanna said the excavation was meant to gather more data in order to properly assess the situation. He stated that the Amerindian burial site is much larger than anticipated and the immense damage and loss of archaeological remains is now critical; but even worse, the erosion caused over the past two years is of great concern for residents of Mt Craven.
"This is basically a catastrophe zone. I am not sure exactly how many metres have been eroded since last time but it is estimated to be about 10 metres or more. The burial site where we are at now is about 50 metres down the coast from where we were last time, and the distance between this burial and the furthest one that we know of down there is 160 metres, so it is an extremely huge cemetery basically that is at risk," Dr Hanna said.
Dr Hanna said it is important to preserve and document these findings since not only are Amerindian burial sites few in numbers in the Caribbean, but their DNA holds answers to questions about their cultivation.
"These remains are still here and they haven't been exposed for 1,000 years so even though there have been sea surges before it really hasn't been as bad as what's happening now. It speaks to climate change, threats to heritage and that is something we need to think more about in Grenada and try to protect these sites," he said.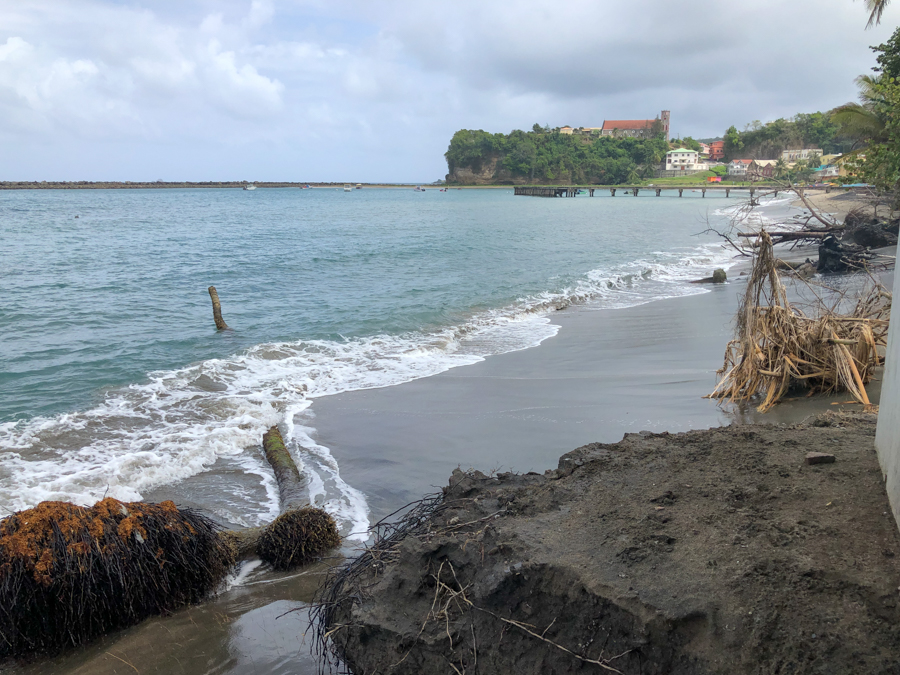 Residents have settled on what was once an Amerindian burial site, and they too are at risk since their homes are being threatened.
Nicholas Alexander, a graphic designer by trade, has shown great concern for what is happening to the coast. "I have lived in this area for over 30 years, and since I was in primary school we have been sighting these skeletal remains and at that time it had a lot. Recently I and my friends discovered another set of remains, we took pictures and we posted it on social media asking for somebody with the knowledge to come and examine the area. They did come and collected the bones, but when I followed up they threw away the bones," he said.
Alexander provided some before and after pictures which clearly show the degradation of the coast over a short period. This he said needs urgent attention. "This erosion is a serious problem now. A lot of people have a different view on what is causing the problem, however, yes although it has been happening for years it was never that bad," he said.
As it relates to the archaeological remains, Dr Hanna said the those found are placed in the Grenada National Museum.
NOW Grenada
is not responsible for the opinions, statements or media content presented by contributors. In case of abuse,
click here to report
.