by Linda Straker
Incoming President of the Grenada Union of Teachers says the march is for social and economic justice
Public Workers Union (PWU) joined in the protest
Government has asked to defer the salary increase
With less than 7 days before they are scheduled to receive their salaries that will not reflect the 4% increase in salary of the 2018 collective bargaining agreement, retired and current teachers took to the streets of St George in a march for justice on Tuesday, 23 March 2021.
The peaceful protest saw many teachers dressed in red shirts and displaying placards with justifications for the increase, to press for Government to resolve the matter.
"As you can see, this is an intensification of the action," said Marvin Andall, outgoing President of the Grenada Union of Teachers (GUT). "The fact is the longer the Government takes to meet its commitment, the more intense our effort will be," he added, without disclosing the planned industrial actions.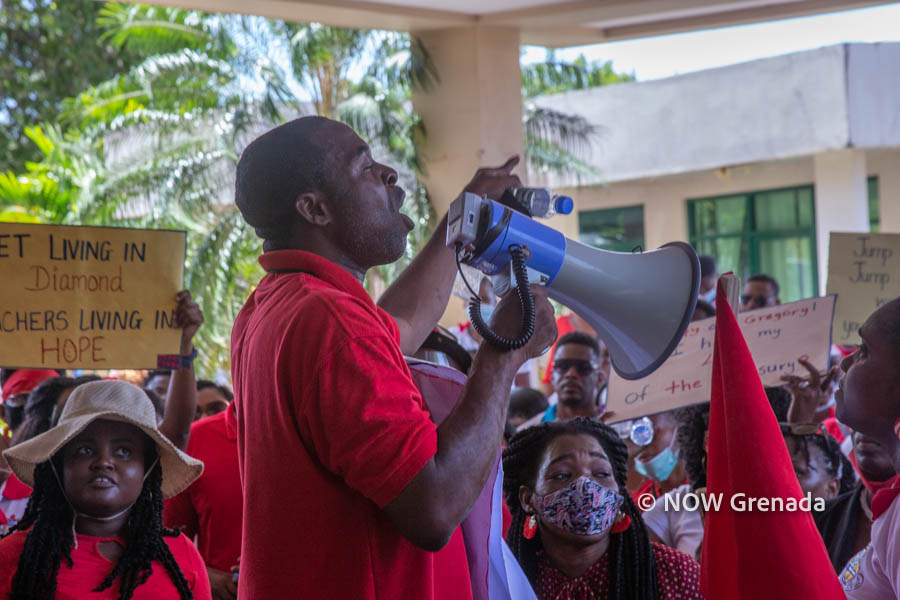 Jude Bartholomew, incoming President of the GUT, said that the activity which had hundreds of teachers leaving the classrooms is a march for social and economic justice. "It's a march for all workers, it's a march for all public workers… that is a worthy and just cause," said Bartholomew, who was elected to head the Union a few weeks ago.
The members of the Public Workers Union (PWU) who are also facing non-payment of the increase also joined in the protest, which started at the National Stadium area and proceeded to the Ministerial Complex.
In late 2020, the Government informed unions that it would be unable to pay the increase signed in the 2018 collective agreement, because of reducing revenue. The reduction is being linked directly to measures enforced to deal with Covid-19. This included a lockdown of the country, which according to the Government's monthly fiscal report, saw 50% of the revenue projected in the 2020 budget, and further reduction for the year 2021.
The unions are contending that the Government's fiscal situation is not as negative as claimed. The Government says that the decision to pay the increase will result in a monthly increase of EC$13.2 million for the year to the central Government.
"Covid-19 has, without question, significantly disrupted life as we know it, and Government has had to bear the brunt of the impact. In the blink of an eye, the Government had to take immediate emergency policy action to provide support to households and businesses, which involved significant unplanned expenditure," said a Government statement in January 2021.
The Government has asked the Union to defer the salary increase to a later date, but no date was given.
NOW Grenada
is not responsible for the opinions, statements or media content presented by contributors. In case of abuse,
click here to report
.