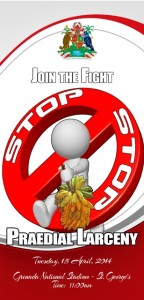 The Ministry of Agriculture and the Royal Grenada Police Force (RGPF) are partnering with local farmers to step-up the fight against praedial larceny.
Praedial larceny has resulted in the loss of millions of dollars over the past decade. The ministry is also aware that theft of agricultural produce has led to physical confrontations between farmers and thieves, resulting in bodily harm to the farmers.
A formal ceremony to unveil the new programme utilising digital technology, will be held at the National Stadium on Tuesday morning. Major stakeholders include agricultural extension field officers, farmers, estate owners, the Marketing and National Importing Board (MNIB) and operators of supermarkets.
This programme includes an amendment to existing praedial larceny legislation, a major public awareness campaign, the use of state-of-the-art digital satellite equipment, infrared and other real-time surveillance equipment.
Described as the reinvigoration of the Praedial Larceny Prevention Programme, Agriculture Minister Hon. Roland Bhola and his policy team, said the onslaught in stemming the scourge must be taken seriously since praedial larceny is one of the greatest threats to agriculture in Grenada. "Praedial larceny discourages farmers from growing certain crops, threatening national food security and rural livelihoods. Additionally the unlawful act drives farmers to the point of considering poisoning their produce, which can threaten the health and safety of our people and our export trade."
Source: GIS