The Government of Grenada, on Thursday, put smiles on the faces of  the first 38 families to receive units under the low-income Chinese housing programme at Mt Rush, St George.
The handover came months after the People's Republic of China presented the Master Key to government officials. The distribution ceremony, held at the Mt Rush site, was punctuated with words of encouragement as speakers urged the new homeowners to set the pace for harmonious co-existence.
Minister for Housing, Hon. Delma Thomas encouraged the recipients to care for the units, and to above all, create a clean and safe environment.
"We want to appeal to the families getting units here today and those who will get in future, to cherish and care for it and its surroundings, keep this as a place that is clean and safe, a good environment to raise children," she admonished.
Minister Thomas said her government had been engaging in efforts to provide housing for its people since the passage of Hurricane Ivan, and she is overjoyed to see those efforts come into fruition.
"When our government designed the concept for this project many years ago… the intention was always to help the most vulnerable among us, to help them make a better day for themselves and their children. In that regard, we can say here today we have delivered," said Minister Thomas.
Also, congratulating the Government of Grenada on its achievement was President General of the Technical and Allied Workers Union, Chester Humphrey. He said Government's perseverance was the key ingredient in making this day possible.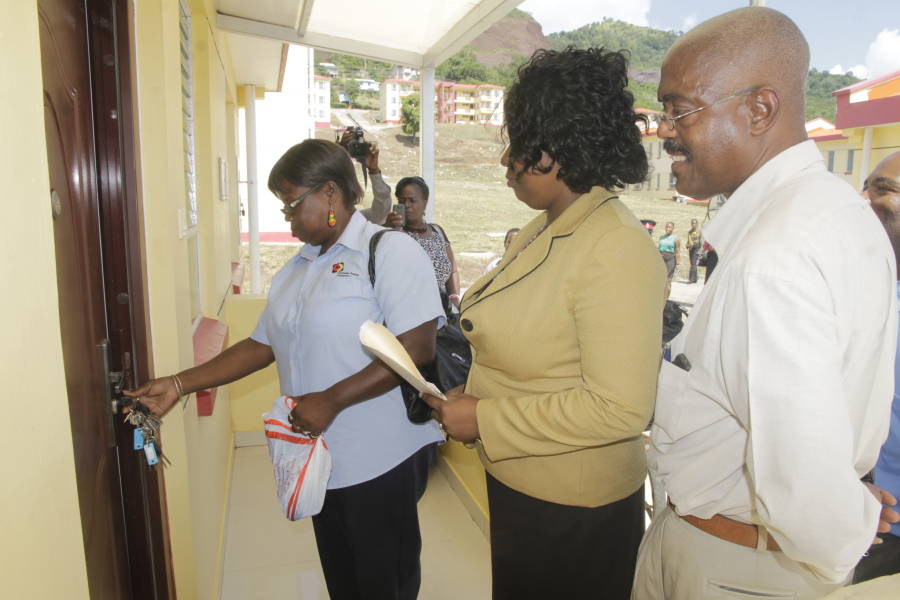 "It's a fine thing that the Peoples Republic would have done, and we recognise them for that" he said." But that didn't come by chance, it came simply because you have a government that has the capacity to negotiate and get those benefits, and for that we must salute and be grateful."
Hon. Tobias Clement, Parliamentary Representative for St George's North East said he is happy to see this moment finally arrive and thanked the Government and People of the Peoples Republic of China for their contribution to enhancing the lives of Grenadians.
"Probably the only thing that I know to say in Chinese is "xièxiè"…thank you. Thank you to the People's Republic of China for the benefits you have given the people of Grenada, Carriacou and Petite Martinique, we should and we are eternally grateful," he said.
But most grateful were the recipients of the units.
"I am very glad and thank God for everything," one proud elderly recipient said. "I thank the Chinese and the Government of Grenada. I am really happy for having it."
The Housing Minister said the rest of the apartments are also expected to be delivered in the month of February, continuing with the Frequente units next week and the Soubise units the week after.