The much anticipated political leaders debate will no longer be happening as Prime Minister Tillman Thomas as pulled out from the event which was scheduled to take place on Monday night.
"The National Democratic Congress has advised the Grenada Broadcasting Network; that the political Leader, Tillman Thomas will no longer be able to participate in the highly anticipated Meet the Leaders programme with the Political Leader of the opposition New National Party, Dr Keith Mitchell.
"The ruling party communicated by way of letter that "Political Leader Mr Tillman Thomas will not be available to participate in the GBN Debate scheduled for Monday 28 January 2013,"said a news release from GBN which explained that the latest communication from the NDC follows its initial acceptance by way of letter dated 17 January 2012 in which it said "the National Democratic Congress (NDC) welcomes and has agreed to participate in the GBN's Beyond the Headlines Programme – "Meet the Leaders".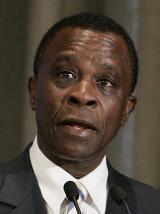 At that time, the proposed date of Monday 21st January 2013 is not convenient due to the Political Leader's previously scheduled engagements. Consequently, the Political Leader has proposed that the programme be held on Monday 28 January 2013.
The Grenada Broadcasting Network said that as a result of the unavailability of the NDC's political leader and subsequent advice from the New National Party that its leader will only participate with the presence of the Honourable Tillman Thomas, the GBN has reformatted the weekly Beyond The Headlines programmeto present a Town Hall forum with a studio audience comprising sectoral representatives and members of the public.
The National United Front has advised that it will be represented by its Political Leader, Mrs. Glynis Roberts. The revised programme will air at 8:30 pm on Monday 28 January 2013 when the issues facing the country will be addressed by members of the panel, the studio audience and calls from viewers as the GBN remains the nation's "Elections Center 2013."
In a news release, the New National Party is in full support of the concept of national debates involving the main political parties during an election period. "Such debates are healthy and provide a platform for the political parties to demonstrate to the electorate, their understanding of the critical issues facing the nation."
This is now the second successive election in which Prime Minister Tillman Thomas is apparently avoiding a direct debate with the political leader of the New National Party.
The New National Party calls on all Trade Unions, the Conference of Churches in Grenada, the Grenada Chamber of Industry and Commerce, and all other national organisations to urge the National Democratic Congress and the Prime Minister to participate in this important national debate.
"Any alternative format will be no substitute and will deprive the nation of the opportunity to better assess the capabilities of our two political leaders," the release said.
By Linda Straker