As a child dreams are endless. Many aspire to become Princesses, Mothers, Nurses, Police, Firefighters and other endless professions; many of which do not materialise or has changed as one ages. However, this one little girl was an exception; at an early age she knew what she wanted to be and worked diligently to achieve her childhood dream.
At a very tender age Lexan Fletcher knew what she wanted to be, a "TV Star" and today she has captivated the heart of many of her audience and clients alike with her infectious smile, husky voice and warm personality. Lexan was born to Grenadian parentage in the community of River Road and achieved her formal education at the St. Louis RC Girl school and later moved on to the Anglican High school. Although Ms. Fletcher did not go on to a tertiary level institution she said that she never stopped learning.
Her journey to become a media personality has taken her through some interesting arena but in the end television is what she loves doing and works to ensure that the product the public received is of high quality. As a teen Ms. Fletcher took part in the national Queen show where she placed second runner up. She then went on to represent Grenada at the Miss Caribbean International Pageant in 1998 and won the title.
"Then came offers from Air Jamaica and BWIA to host in-flight videos. In 2003 she became the official presenter for the National Lotteries Authority. Not only did she get attention for her looks, but people also started to take notice of her warm and engaging voice. She voiced commercials for Digicel, Bryden & Minors, Duty Free Caribbean, Prestige Motors, and De La Grenade Industries, just to name a few." (Spicevibes.com)
Apart from her work in advertising, Lexan has worked also in the area of fashion. Some of the noted designers she worked along with were Antiguan Designer, Calvin Southwell who was the first to give her a chance to showcase his designs. Other regional designers include Claudia Pegus (Trinidad), Sonia Noel (Guyana), and Kimon Baptiste (St. Vincent).
She has had the opportunity to produce shows for "The Face of Shabeau Model Search,"  "Visions of Spice," the first ever Elite model look Caribbean search and was the spokesmodel for Paul Mitchell Systems and the 2010 Face of Digicel. (Spicevibes.com) She is also a Fitness expert who work along with models and coordinate events.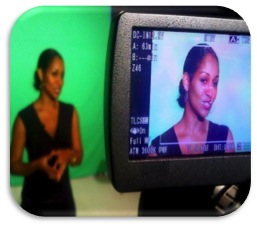 Today, Ms. Fletcher host and produces the television show Chit Chat. Reminiscing on that journey to get where she is today, Ms. Fletcher said with a smile "I remember saying to peers I wanted to be a TV star. Little did I know I was a child with a very fertile imagination and I somehow knew that I would end up being involved in an area of the creative arts. I was given the opportunity to be part of a television production as a teenager and never looked back. I felt comfortable, confident and right at home in front of the camera after followed a stint with a radio station which was just as educational and enjoyable."
The birth of her television show came about as a result of that inner drive in Ms Fletcher to achieve more.  "After getting to host a few events and television productions locally and regionally, I felt like I needed to grow and take my career to another level. I approached back then Grenada Cablevision and pitched an idea to do a tv show. After further discussions came the birth of Chit Chat, a live tv show of which I produce and host."
Chit Chat has been in operation for over 5 years now and Ms. Fletcher attributed her show's success to the love and passion that she has for television. Commenting on the successes and failures of television shows, Lexan said she believe persons should pursue something they believe in, not because everyone's doing it. "People look at tv hosting as an "easy" job and that anyone can do it. You must be able to engage the viewer with your personality and professionalism. Another area is resources, unfortunately finances keeps a lot going and it's not so easy to come by, and training. We definitely need to improve on content matter and presenting skills."
As a woman, a mother and a wife it takes great juggling to ensure that there is a balance among all facet  and Ms Fletcher maintain that balance by "learning to let go of less important things/projects and maintain focus. Getting older with more responsibilities has taught me a lot and one of those lessons is you can't do everything. It is important that I balance my time in an effort to remain sane and spend quality time with my family. I try to be organized even though it can be a challenge but I am constantly working at it. I commit to a few main projects and learn to say no.
In her off time she unwinds with a spa massage or yoga. "I enjoy feeling calm and relaxed and for me spa treats are always welcomed I enjoy having me time complimented with a massage. When I can I try to read something inspiring or relax somewhere with a great view with my family."
Ms. Fletcher has achieved success not only in her professional life but in her private life as well. Married for over 10 years, she is the mother of two beautiful girls, one 8 the other under a year. Speaking on her journey into motherhood the beautiful Ms Fletcher beamed with pride as she spoke about her seed linings. "Motherhood is a wonderful feeling even with the ups and downs.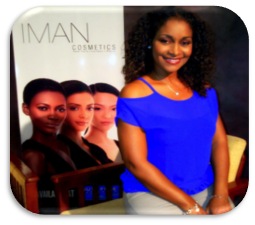 I am now the mother of two beautiful girls and the birth of both were a bit challenging but with many blessings. Like every other job motherhood is a work in progress. My first is now an 8 year old and now I am learning about the transitioning period from being my baby to being a little lady with tons of cheekiness but I think I can speak for every parent when I say, we learn as we go along"
Her journey was not all smooth sailing as during her first pregnancy the Chit Chat host lost one of the two babies she was carrying. Reflectively she said "it was a really tough time for me, lots of tears and sadness but I believe in seeing the positive in negative events. I thank God for the blessing of my first daughter and refuse to ask why or hold on to any anger. When struggles come my way it's very comforting to have a supportive husband and family. Even though I try to deal with my issues alone it really matters to have someone in your life who can give you a different perspective on matters."
Lexan will like for women to get up and empower themselves. According to her "it really gives you a stronger sense of self when you have accomplished even if it's one thing in your life. I never got the opportunity to attend University and at times I feel less accomplished because of that but I believe that any and everyone can be whatever they want to be. The first step is to find out what it is you love, go for it and always aim to be the best at what you do." She said that everyone has insecurities, and it's ok. She too has insecurities like everyone else.
She implored upon women especially those being battered to empower themselves. "It starts with you! You must believe in yourself and know your worth. Don't feel less of a person because you didn't accomplish things you wanted to, it's never too late. Never give anyone power over you. Respect yourself and never, ever let anyone make you feel like your life has no worth. Surround yourself with positive  people and thoughts. Learn to open up and share your fears and battles with someone trustworthy. Find someone who you believe in and admire like a mentor or confidante, get advice and go for your dreams."
By Diana Neckles-Mark
Media Studies Student – T.A. Marryshow Community College
NOW Grenada
is not responsible for the opinions, statements or media content presented by contributors. In case of abuse,
click here to report
.