Tuesday 30 April 2013 – The month of May has officially been declared Disability Awareness Month for persons living with disabilities in Grenada. In recognition of the significance of this day, members of the Grenada National Council for the Disabled (GNCD) along with Hon. Delma Thomas, Minister of Social Development, member institutions and supporters, came together at the Grenada Red Cross Headquarters, Lucas Street. St George's to celebrate the national launch in Grenada.
May's Disability Awareness month was officially declared opened by Hon. Delma Thomas, where she encouraged Grenadians to give each other fair and equal opportunities and expressed her Ministry's willingness and eagerness to work along side GNCD in the future.
The theme for this year's event is 'Creating the Right Environment through Inclusion and Participation'. Mr. Joseph Budd, guest speaker at the event elaborated on the reason for this particular theme and said "In previous years, persons with disabilities were hidden away from society. This mindset is slowly changing." Mr. Budd who has also suffered from an optical impairment for most of his life, and plays a key role in the activities of the GNCD, went on the say "We want the option of being included in activities and decisions especially where it concerns us. We will also play our part by participating in these events."
Grenada National Council for the Disabled's main objective is to guide, focus, and direct persons with disabilities to take responsibility and take action for their well-being and to advocate on behalf of persons with disabilities in Grenada. Recently, the organization secured educational opportunities for several individuals with disabilities to learn a trade or craft.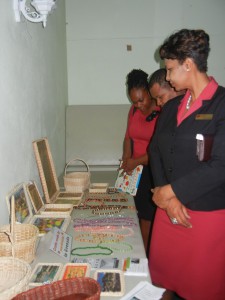 As part of the celebrations, GNCD has partnered with several member institutions and corporate citizens, to plan a number of proactive, knowledgeable and fun filled activities and experiences. These events will include a traditional church service on 05 May art show at the National Museum held by the Grand Anse Play Group 10–16 May, family fun day and health fair 19 May at Progress Park.
Hillary Gabriel, Coordinator of GNCD and May month Committee member expressed sincere gratitude on behalf of GNCD and its member care institutions to the corporate citizens and supporters for their contribution in making the event possible. She singled out for special mention CIBC FirstCaribbean International Bank, Mitchell's Health and Wellness Pharmacy, Fit For Life Health Club, AllyDay Creative Projects Ltd for the financial and other resources donated towards the May Month activities.
Miss Gabriel stated "All involved with GNCD are absolutely delighted with the support of our dear friends. As all aware, without the financial support and other contributions received from our donors, we would be unable to function and many of our family and friends living with disabilities would be further disadvantaged"
NOW Grenada
is not responsible for the opinions, statements or media content presented by contributors. In case of abuse,
click here to report
.