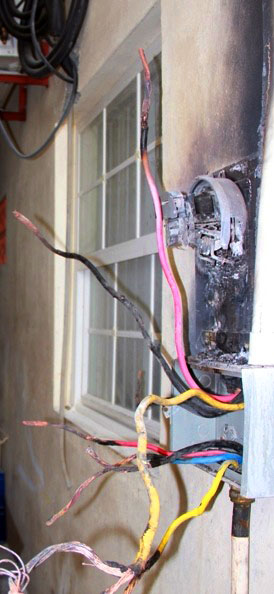 The Ministry of Health and Social Security on Wednesday afternoon was forced to divert healthcare services from the St. George's Health, to other nearby facilities due to an electrical fire.
The fire is believed to have been caused by a malfunctioning electrical system towards the side of the building.
In a statement on Wednesday the Permanent Secretary in the Ministry of Health and Social Security – Aaron Francois, said the decision to close the medical facility is to undertake an immediate assessment of the building, conduct the necessary repairs and restore electrical power to the facility.
Services were disrupted at the Melville Street facility Wednesday afternoon when health personnel heard an explosion and immediately evacuated the building along with other occupants.
According to the P.S. Francois in order to ensure that persons continue to receive medical care and attention a decision was taken to diverted services to the other satellite health facilities within the district including; Grand Anse Health Centre, Happy Hill, Mt. Moritz and Snug Corner Medical Stations.
"We know it will be inconvenient to some people especially pregnant women, disabled people and the elderly and we apologize, but we value their safety and that of our staff above anything else," explained the Permanent Secretary.
The St. George's Health Centre is closed effective today, Wednesday 22 May 22 2013, until further notice.
NOW Grenada is not responsible for the opinions, statements or media content presented by contributors. In case of abuse, click here to report.