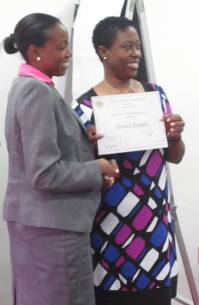 A number of media workers in the OECS were by the end of Wednesday, better informed about the status of juveniles in conflict with the law, and at the same time contributed toward the development of guidelines for reporting on juvenile offenders and children in need of care and protection.
They completed a two day workshop held at the Coyaba Hotel Conference room in Grenada which was organised by the OECS Secretariat, UNICEF and USAID, as part of the Juvenile Justice Reform Programme. The sessions were aimed at creating an awareness among journalists of juvenile issues and the reform initiatives targeted through the Juvenile Justice Reform Programme.
The Reform Programme is supported by the Caribbean Basin Security Initiative (CBSI) which is a Presidential Initiative indicative of a shifting paradigm of United States Cooperation with the Caribbean region. In May 2010, the Caribbean–USA Security Framework and CBSI Declaration of Principles was adopted, geared to provide resources to the Caribbean on issues relating to citizen safety and security.
As part of establishing links with the community to ensure effective re-entry of juveniles, the Media has been and continues to be a critical partner in the process of advancing change and acceptance. Therefore, development of an awareness campaign can be seen as part of the broader approach to ensure that the use of communication strategies and the dissemination of information through the media as an agent of change continue to facilitate wider social discourse with reference to Juvenile Justice Sector.
Project Coordinator of the JJRP Dwight Calixte said that it is envisaged that this approach will assist in the transformation of culturally accepted practices of incarcerating juveniles, and thus seek to promote a more widespread acceptance of alternative methods such as mediation, restorative justice and community sentencing.
"It is therefore expected that with the changing mindsets of the community the propensity for re-integration of our juveniles into their communities will increase. Thus the media is critical in the advancement of the acceptance of the new models of diversion and restorative justice and also to ensure that juvenile re-entry process is not hampered reducing their likelihood of re-offending," said Calixte.
by Linda Straker
NOW Grenada
is not responsible for the opinions, statements or media content presented by contributors. In case of abuse,
click here to report
.