On Sunday 15 December 2013, several members from the Rotaract Club of Grenada joined representatives and volunteers from St. Patrick's Environmental and Community Tourism Organisation (SPECTO) to clean up Bathway beach in the North of the island. The coastal cleanup was part of SPECTO's ongoing efforts to conserve Leatherback turtles, which nest on Levera Beach.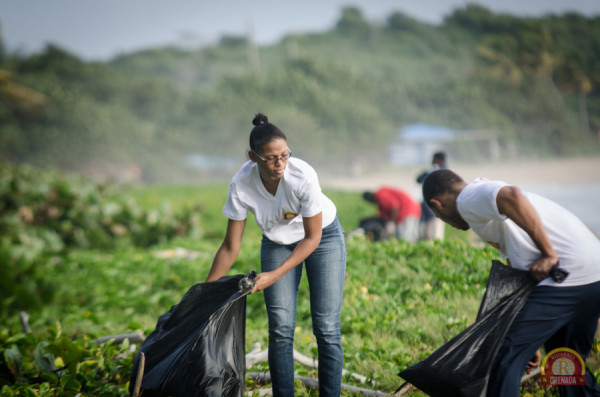 SPECTO is a non-profit environmental and community tourism advocacy group based in the parish of St. Patrick, Grenada. Established with a mandate from the Ministry of Fisheries and Government of Grenada, SPECTO's goal is to engage the community in the protection and conservation of the endangered leatherback turtle species and develop alternative livelihoods based in environmental conservation and activism.
Sunday's coastal cleanup was led by Valentino Sawney — a founding member of SPECTO. Rotaractors were provided with protective gloves and bin bags and informed of the dangers rubbish left on the beach can have on Leatherback turtles. SPECTO and Rotaract Grenada were able to clear the coastline of Bathway beach in four hours, collecting harmful plastic waste and debris thrown, blown or washed ashore.
Rotaract Club of Grenada is a Rotary-sponsored service club for young men and women between the ages of 18–30. Rotaract allows young people to develop their leadership skills and connect with other like-minded individuals while addressing the physical and social needs of their communities. The Club began in 1978 and is the oldest Rotaract Club in District 7030, which consists of Caribbean territories from St. Kitts to Suriname.
Rotaract's public relations director Orlando Romain says that Rotaract Grenada is keen on collaborating with other organisations in their efforts to protect and preserve the environment. He stated that the club has been involved in several coastal cleanup, reforestation and awareness programs over the years and this new relationship with SPECTO will serve in strengthening their environmental protection programmes and the collective development for a safe, secure and sustainable future.
Mr. Sawney expressed his gratitude in having Rotaract Grenada onboard, which shows the importance of community and coastal cleanup and encourages more environmental stewardship and community ownership in Grenada. He hopes that the presence of young Grenadian Rotaractors on Sunday and what they were able to achieve will encourage more organisations to partner with SPECTO and inspire other young men and women to take action in their own communities.
NOW Grenada
is not responsible for the opinions, statements or media content presented by contributors. In case of abuse,
click here to report
.