My Mother and I – The Epic Story of Grenada,
by Kamau McBarnette.
Charlestown, SC: Island Girls Publishers, 2014. 342 pages.
Reviewed by Claude J. Douglas

First of all, let me congratulate Kamau for undertaking such a herculean task of writing this docu-novel, which is considered by many as being the most difficult to write. I remember well our initial discussion about the possibility of publishing his manuscript. I felt good in knowing that another local writer is about to add to the very scanty collection of literary materials on Grenada.
Kamau McBarnette was born in St. George's, Grenada in 1956 — one year after Hurricane Janet wrecked Grenada. He spent twenty-five years as a political prison at Grenada's Richmond Hill Prison, following the American invasion in October 1983, where, I assumed, he did most of his research and writing. He is a graduate of the Grenada Boys Secondary School and taught at both the primary and secondary school level. During the Grenada Revolution, he served as a columnist for the Free West Indian newspaper, served as editor for a short period, and was also the manager of Radio Free Grenada and the Junior Minister for Information.  He is the author of Operation Desert Rat, a short story and poems, and Forget Me Not, an anthology of poems. My Mother and I — The Epic History of Grenada is his first published novel, a docu-novel.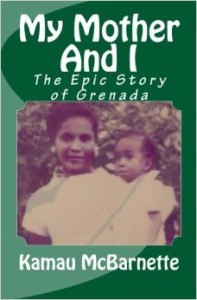 This docu-novel titled My Mother and I — The Epic Story of Grenada written by Kamau McBarnette provides an in-depth analysis of the epic history of Grenada. These dramatic accounts of the major historical periods helped shape its colourful history. He makes every historical event come alive. You get to know their protagonists in a personal way. In this book you would begin to clearly understand how different historical periods inspired the more contemporary ones. For instance, how the Eric Gairy led 1951 social revolution influenced the Maurice Bishop led 1979 revolution.
I must admit that this is the first book that I have read that captures so comprehensively the epic history of Grenada. Not only does his book provides more information on Grenada, especially the Revolutionary period, but it also affords readers a more graphic description of the events and gives background information of its main protagonists ± tracing their birth, childhood, personal and professional development. This, I believe, is outstanding. His detailed description transcends the historical landscapes and ventured into the physical: the mountains, seas, wind, sky, trees, rocks, and every animate and inanimate thing he made mention of. It is as if nothing could have escaped his adjectival eyes.
The book spans Grenada's pre-Columbian era to its post-Revolution period. The forty-nine chapters are organized chronologically, thus, facilitating the reader's understanding of the major historical events which include the genocidal clash between the Amerindians — Caribs — and the French colonizers, the fights between the French and the British over Grenada; the imposition of chattel slavery; the Fedon Rebellion of 1795; the 1951 social revolution; the rise of Gairyism; the Black Power Movement and the emergence of the New Left politics of the 1970s; the Grenada Revolution and the events leading up to its demise and the U.S. invasion of Grenada.
It is quite evident that the author is well read and used his deep and wide fountain of knowledge which enabled him to draw from a wide selection of secondary sources that provided much needed fodder for his seminal work. His references which spans different historical periods show that the author is not limited to time and space. Moreover, the author used a lot of empirical data to support his arguments, counterarguments analyses and comparisons.
No book on Grenada's history is complete without making mention of its folklore. The author's interpretation of folklore in describing and explaining certain events adds to the richness of the book. Writes McBarnette: "A group of young men left St. George's on a mission on the night of January twenty-first, 1974. It was the kind of night that Soukoyahs loved the most; eerily quiet, as quiet as a cemetery at midnight." (Chapter 32: p.1)
The author skilfully balanced historical accuracy with reader enjoyment. Moreover, his colourful literary devices are reminiscent of the country's colourful history. In describing the British short occupation during its first takeover, McBarnette metaphorically wrote: "But their stay was relatively brief, caught between a G-string and bikini." (Chapter 15: p.55) `McBarnette also used a lot of humour, which makes his book an entertaining read. In retelling the Bloody Sunday event, he adds humour that tempers the readers rising annoyance. He writes: "No one saw where Daniel passed; it was as if he had never stopped running, after he was initially chased by the Secret Police. Radix followed close on his heels and his chubbiness, contrary to the laws of physics, made him move faster. But then it was the more powerful law of survival in operation." (Chapter 30: 151)
McBarnette understands that objectivity is the hallmark of a scholar and was not stingy in telling the truth regardless of the consequences. He did not allow his affinity with the Grenada Revolution to bias his analyses of about its making and breaking. He gave Jack his jacket and Shirley her blouse. Not many Revolutionaries would readily admit the trespasses of the Revolution as the author did. In so doing he lay bare the side that many people here in Grenada and beyond our shores have not heard.
The main protagonist whom the author portrays witnessed every post-Columbian historic period. At times, speaking in the first person, he tells of his bastard birth and the black sheep status which he was relegated to by his other siblings – other forts and bastions. McBarnette writes: "My sister Jeudy once called me a 'bitch' and she was probably right. I would have had to be a tough bitch to have survived all these years. Believe me, I do not know how, I Richmond Hill Prison, despite the battering, survived more than a century of so much pain, injustice, and hardships; but, as angered as I am and as likely as my function is to change yet again, I intend to remain standing as a symbol of Grenada's historical past." (Chapter 49:299, 300)
McBarnette portrays his characters realistically. The characters are shaped by their experiences, family life, and culture.
Let me conclude by saying that My Mother and I — The Epic History of Grenada — is outstanding- a vivid and moving story – a fine tool to engage one's mind with Grenada's epic history in a way that is virtually impossible by reading an encyclopaedia type summary of Grenada's history. I strongly recommend this book to those of you who want to have a more profound understanding of the epic history of Grenada. IT IS A MUST READ.
NOW Grenada
is not responsible for the opinions, statements or media content presented by contributors. In case of abuse,
click here to report
.