The Grenada-Suzanne Gaywood exhibit named 'Spice Isle' (GPB/16) has won a coveted Silver Gilt at the RHS Chelsea Flower Show 2014.
This latest medal adds to the multiple medals awarded to Grenada, Gaywood and her team since 1998. Over the past 17 years Gaywood's Grenada exhibits have successively been awarded Silver (1998), Silver-Gilt (1999, 2000) and then Gold (2001, 2002, 2003, 2004, 2005), Silver-Gilt (2006), Gold (2007), Silver-Gilt (2008), Gold (2009, 2010, 2011, 2012) and now Silver-Gilt in 2014.
The fresh blooms and spices were grown in Grenada by members of the Chelsea team and arranged to Gaywood's design ahead of Monday 19 May. The focus of the stand is displays of whole spices plus the exotic, spicy colours of Grenadian flora. Gaywood's design highlights the rich vegetation typical of Grenada's rainforest plants on one side, and a beach scene on the other.
The display enthralled Press Day visitors including Grenada's Minister for Tourism and Civil Aviation, Hon Alexandra Otway-Noel, and Dr Johnson Beharry VC. Beharry, who was born in Grenada, is the recipient of the highest military decoration for valour in the British and Commonwealth armed forces. Other celebrity visitors included Piers Morgan, Fiona Bruce, Lesley Garrett and Sandie Shaw.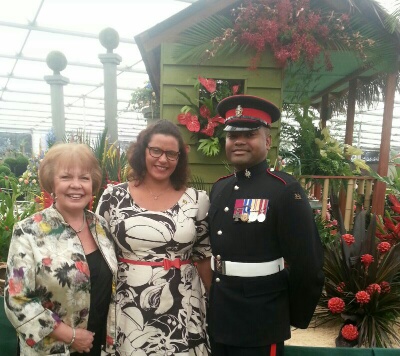 Gaywood revealed that this year's display, in addition to marking the 40th anniversary of Grenada's independence, is a tribute to one of the Grenada-based team who died suddenly in 2012. "We have organised the Grenada exhibit at Chelsea for the past 17 years and it is always a thrill to win a medal," said Suzanne. "I'm delighted for each of the growers and gardeners involved and thank them all for their hard work and dedication. Our late friend Kim Henry was an enthusiastic team member who was with us for four years and made her mark, embracing all aspects of exhibiting with her zeal and efficiency. She loved the show and her part in it."
Minister Otway-Noel said, "Receiving a Silver-Gilt at the RHS Chelsea Flower Show is a tremendous achievement for Grenada, and is testimony to the hard work and dedication of Suzanne and her team. This show is second to none, and I'm delighted that Pure Grenada is showcased in such a tangible way to such a discerning global audience."
Each year since 1998 (with a break in 2013), Gaywood has taken her inspiration from Grenadian beaches, forests and gardens, creating a variety of settings that always showcase the pungent spices and vibrant blooms of her homeland. Gaywood said: "Legend has it that if you push a stick into the ground anywhere on the island of Grenada, it will grow. This is due to the fertile soil, plentiful rainfall and perfect climate in which spice trees grow in abundance alongside tropical and subtropical plants of every description."
The 2014 sponsors of the Grenada pavilion were the Grenada Tourism Authority, Peter and Lana de Savary for Mount Cinnamon & Port Louis, Calabash Hotel, Coyaba Beach Resort, Lanwades Stud, Seafreight Line, John and Joan Buckenham, Hyde Park Tropical Garden, Reg and Trish Scarlett, Blue Horizons Garden Resort and British Airways.
NOW Grenada is not responsible for the opinions, statements or media content presented by contributors. In case of abuse, click here to report.