Since 2012, upgraded equipment installed at Huggins Distribution Centre makes it a virtual impossibility that customers of Rubis LPG would receive a 20-pound cylinder of gas that is leaking or that is not the correct weight.
"Our system provides for every cylinder to go through a re-certification or inspection process that will allow us to identify any problem with cylinders, and thereby remove them from use," said LPG Marketing Representative Brian Strachan.
Media workers recently toured the plant with Strachan, who explained the step by step process of recertifying an empty cylinder to its refilling. Each cylinder undergoes the hydrostatics testing system, a complete clean of the cylinder which involves the removal and cleaning, and in some cases the replacement of the cylinder head.
In response to queries from customers who often claim that cylinders are not properly filled, and they are being robbed of their monies' worth, Strachan said that the recertification process eliminates that possibility.
"Besides the recertification process for the cylinders, it must be noted that all our scales must be certified by the Grenada Bureau of Standards (GBS)," said Strachan. An empty cylinder will weigh 20 pounds and with the 20 pounds of gas is include, the cylinder will weigh 40 pounds.
"What we have discovered is that there are some customers who have problems with leakage through the head and connecting hose, and that is often what is usually responsible for gas leakage and wastage," he explained. He recommends that customers should comply with the manufacturer's request to change the connecting head every 3 to 5 years.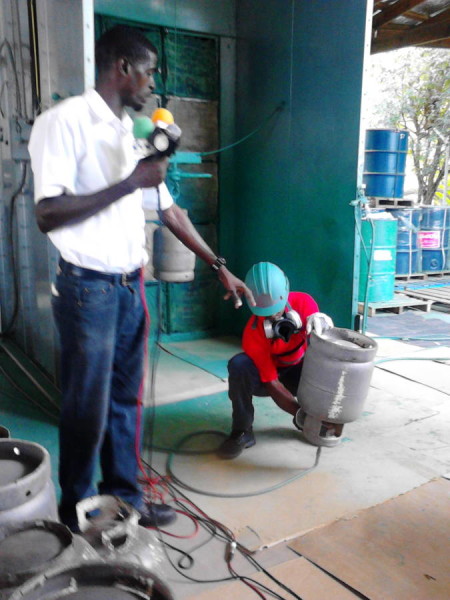 With regards to protection from tampering, Rubis identified a weakness in the red caps that were formerly used as seal of assurance for customers, and they are investing in another type of seal that will be tamper proof. "We are hoping that this will come on stream by the end of the year," said Divisional Manager for Huggins Petroleum Distribution Division, Charlie George.
Rubis 20-pound cylinders are distributed by Huggins Distribution Centre which has being the business for more than 70 years. It presently has a market share of 85% with more than 70,000 cylinders in homes across the island.
By Linda Straker
NOW Grenada is not responsible for the opinions, statements or media content presented by contributors. In case of abuse, click here to report.