Those of us who survived Hurricane Ivan would recall the traumatic experience; both physical, emotional and spiritual, which left us with a country almost completely destroyed by an unspeakable natural disaster.
In the wake of the hurricane, several historical buildings were destroyed and others severely damaged. In the latter category were the churches in St George's, notably of which were the RC Cathedral, the Methodist Church and the Presbyterian and the Anglican Churches.
Of these four main ecclesiastical buildings, the damage to the Presbyterian and the Anglican Churches were the most severe, and remain almost 10 years on, in the same or worse condition as they were immediately after the hurricane. In like manner both the Methodist and Catholic communities must be congratulated for their excellent restoration work which has given our capital city a major facelift.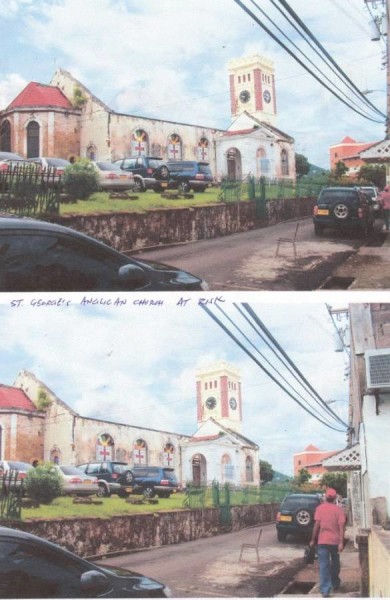 During his Sunday radio sermon on 29 June, 2014, the Archdeacon of the Anglican Church, Rev Christain Glasgow announced that the restoration of the church, which was a decision taken by his Lordship, the Rt Rev Leopold Friday, Bishop of the Windward Islands, some time ago, would begin in earnest in the near future, and that the event would be marked by a "launch" in August.
The Grenadian public, who has been keeping abreast of the struggle to save our historic buildings (York House comes to mind), and other of our cultural and natural assets, would be aware of the challenges, over the years, which the Willie Redhead Foundation has been experiencing, which included our efforts to have the St George's Anglican Church restored, as against those who wished to have it modernised.
In this regard the foundation is extremely happy to hear the announcement and wish to extend a helping hand, if required, in finally accomplishing the restoration of this important edifice. Before Hurricane Ivan the church walls were the canvas of some of Grenada's important historic events in the form of relics, murals, frescos and artifacts. These, we hope would be replaced as part of the restoration process in giving authenticity to the final product.
As culture and heritage begin to form part of the national economic development plan, it is our hope that with a full minister for culture, the long expected status of St George's achieving UNESCO heritage listing (to which the church restoration would contribute), would become a reality in the not too distant future. This could have exponential economic possibilities in a 21st century Grenada.
A Willie Redhead Foundation Presentation 
NOW Grenada is not responsible for the opinions, statements or media content presented by contributors. In case of abuse, click here to report.