By Sherry Hamlet
The Opposite of Orange, a creative photography and art initiative, was held at the Grenada National Museum on Thursday 3 July. Through this series, the artist Teddy D Frederick showcased a collection of 10 pieces influenced by what is often referred to as Pablo Picasso's 'Blue period'.
With this series of work Frederick uses artistic knowledge paired with personal experience, to craft images that explore the depths of the creative mind rarely brought to light. He uses the colour orange to place emphasis on the fiery state of normalcy expected of artists by the modern day masses, and puts a unique spin on the concept of colour embodying emotion. By using the contrast colour of orange — blue — to make a strong, compelling visual statement about the heaviness and struggles faced by the Caribbean artist as he or she fights to keep the fire of their passion alive in an already difficult economic industry, Frederick has managed to birth a creative merger or painting, photography and mixed media rarely available to the Grenadian public.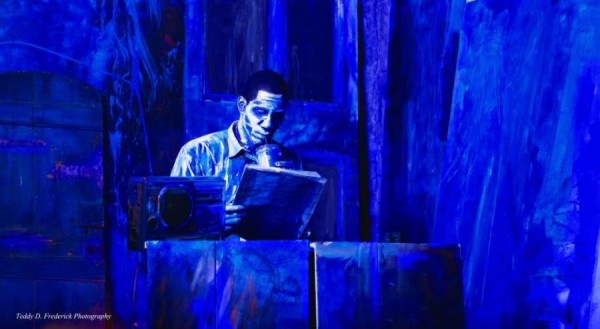 During his creative process, Frederick chose to paint directly onto the subject of each piece before any form of digital manipulation. A process which allowed him to have a more three dimensional command over light, texture and colour in his finished product, all in hopes that that which was portrayed by the persona in each article of work would be conveyed in a way that would be a clear and specific presentation of his idea in its entirety.
The artist comments, "photography for me is no longer just a way of digitally documenting an event, it's an art form." This much is evident, as each piece has a unique interplay of composition and mood.
Frederick goes even farther than the norm by making available for sale not just the original pieces, but also smaller, limited edition quality prints that are a collaboration between himself and various members of the Writers Association of Grenada, whose members have contributed self authored poetry specifically inspired by the artist's work, that are printed onto the back of each available print.
The exhibition will continue to run all through the month of July at the Grenada National Museum.
NOW Grenada is not responsible for the opinions, statements or media content presented by contributors. In case of abuse, click here to report.