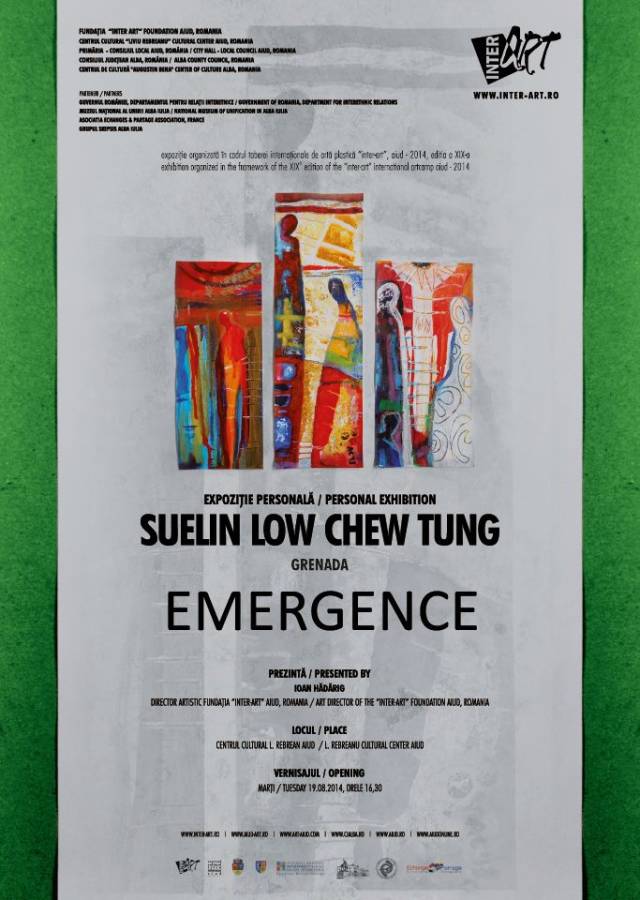 On Tuesday 19 August, artworks portraying the Grenada Jab Jab were shown to an international audience at the Centrul Cultural Liviu Rebreanu in Aiud, Romania.
The artworks were part of 'Emergence' the solo exhibition of local artist Suelin Low Chew Tung, who is currently participating at the 19th edition of the Inter-Art Foundation Aiud art camp.
Ioan Hădărig, Art Director at Inter-Art Aiud, and manager at the Centrul Cultural Liviu Rebreanu, introduced the artist and her works, and spoke about the use of art to introduce one culture to another. Of the overall exhibition, he quoted Pablo Picasso: "There are painters who transform the sun to a yellow spot, but there are others who, with the help of their art and their intelligence, transform a yellow spot into sun."
Video from the opening is here – https://www.youtube.com/watch?v=DIqTK1xVdK4&feature=youtu.be
Emergence comprised two parts: 20 framed untitled small paintings the artist brought from Grenada, several of which were from her 2013 show of the same name, held at the gallery of the Caribbean Art project. These were based on an excerpt from Teach a Daughter to Fish, a short story taken from the artist's 2013 short story collection titled 'a patch of bare earth'.
The artist is known for her explorations of the Grenada ShortKnee, but earlier this year, she began work on the Jab Jab, creating a series of paintings on brown paper with a mixture of liquid molasses and acrylic varnish. In Aiud, she continued her Jab series, creating black paint line drawings of Jabs on paper, cardboard, glass and on fragments of Carrera marble taken from her sculptor colleagues at the atelier.
Some of the drawings showed the Jab in conversation with Romanian sunflowers, heads bent in obeisance to the Jab, who blocks out the sun. These conversations reference fields of sunflowers common to Aiud, plus that particular line about the Jabs with, 'skin so black they blot out the sun.' This part of the exhibition was accompanied by a YouTube playlist of Jab music videos, to add dimension to the presentation.
Low Chew Tung said, "While my framed works were well received, I believe the audience was perhaps more intrigued by the Jab phenomenon. The installation of music video, line drawings on paper and on the marble fragments, stirred artistic and I-want-to-come-to-Grenada-for-carnival interest. Who knew that Jabs could bridge two cultures?"
The artist is expected to return to Grenada 30 August.
NOW Grenada
is not responsible for the opinions, statements or media content presented by contributors. In case of abuse,
click here to report
.