Digicel has acquired majority ownership and control of St Lucia-based International Media Content Ltd as well as acquisition of submarine fibre assets across the Caribbean.
Digicel announced that it has acquired majority ownership and control of St Lucia-based International Media Content Ltd, parent company of regional sports broadcaster, SportsMax, and North American broadcaster CEEN-TV, for an undisclosed sum.
Under the terms of the deal, the founder and a number of the lead principals will continue to have an ownership stake, and be involved in the day-to-day running of the IMC operation. Currently available in 23 countries across the Caribbean, SportsMax is the Caribbean's first and only indigenous 24-hour dedicated sports cable channel featuring a strong mix of international, regional and local sports content. Its large inventory of coveted content includes the Barclays Premier League, UEFA Champions League, West Indies cricket, the Indian Premier League and the IAAF Grand Prix.
IMC has been responsible for the broadcast of major international events such as the FIFA World Cup tournaments since 2006, including this summer's event, and the 2012 London Olympics. In 2013, SportsMax launched its 24-hour Spanish language channel, CDN SportsMax, in the Dominican Republic which includes similar content as SportsMax plus Major League Baseball.
Ranked as the number one viewed sports channel in the region, the move to acquire IMC/SportsMax comes hot on the heels of Digicel's entry into the cable TV market with recent acquisitions in Anguilla, Dominica, Jamaica, Montserrat, Nevis and the Turks and Caicos Islands.
Commenting on the acquisition, Digicel Group CEO, Colm Delves said, "As a complete communications solutions provider, it's all about ensuring our customers enjoy access to the best multimedia content on the best devices via the very best network and that we meet all of their communication, entertainment and networking needs. SportsMax represents the perfect blend of sports entertainment and infotainment with a Caribbean flavour and I would like to take this opportunity to welcome the team to the Digicel family."
Patrick Rousseau, Chairman of IMC and SportsMax, commented, "Our commitment to excellence and blazing a trail across the region mirrors Digicel's own commitment to delivering the very best for its customers. We are delighted to be joining with them and working together to continue delivering the best sports on television and growing our audience and reach across the Caribbean and North America."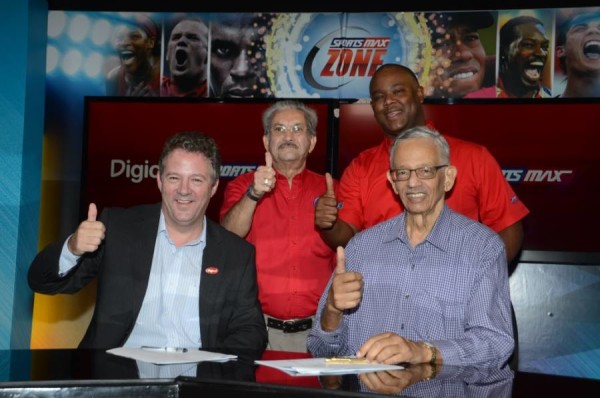 Digicel's acquisition of submarine fibre assets across the Caribbean, comes with receipt of required approvals from Government and regulatory authorities, with regard to its purchase of a submarine fibre network across the region from the Guadeloupe-based Loret Group, and Caribbean Fibre Holdings.
The completion of the deal marks another major step in Digicel's ongoing evolution from a pure mobile provider to a global complete communications provider and follows the recent announcements of several cable TV and broadband acquisitions in the region.
This deal will provide Digicel with a wholly owned submarine fibre optic cable network, providing capacity from Trinidad connecting 12 countries to Puerto Rico with onwards connectivity to the United States. In total, Digicel has secured access to a robust network comprising 15 submarine segments with a reach of some 3,100km across the Caribbean region. Digicel will also have extensive onwards capacity connecting to the United States, Europe and Asia.
Digicel Group CEO, Colm Delves, commented, "In our data hungry world, we are committed to ensuring we deliver innovative products and services to our valued customers. This latest acquisition grants us significant additional submarine fibre capacity which in turn means we can help our customers achieve their personal and business goals through advanced solutions and multimedia experiences on multiple devices."
NOW Grenada
is not responsible for the opinions, statements or media content presented by contributors. In case of abuse,
click here to report
.