A music video has been launched to spread the message on climate change. Wednesday 15 October marked another major milestone for the Integrated Climate Change Adaptation Strategies (ICCAS) project, which is currently being implemented by the Government of Grenada, GIZ and UNDP throughout Grenada, Carriacou and Petite Martinique.
In a press conference held at the National Stadium, the Ministry of Agriculture. Lands, Forestry, Fisheries and the Environment, in conjunction with GIZ unveiled the recently produced music video. The aim of the music video is to raise awareness about climate change and adaptation options particularly amongst the youth. In the coming months, various activities will be implemented together with UNDP.
The song, entitled "Can't Do This Alone" was written by artistes Jevon 'Avonni' Langaigne, Elon 'Eclipse' Cambridge and Edison 'Swipe' Thomas, who currently attend T A Marryshow Community College and are past pupils of GBSS. The music video was commissioned by GIZ and produced by Arthur Daniel, with the assistance of True Blue Bay Boutique Resort.
The video was filmed at Telescope, one of the areas most vulnerable to the negative impacts of Climate Change, such as stronger storm surges and sea-level rise, and also features clips from other areas like Tibeau in Carriacou, Conference, St Andrew, Petite Bacaye and Old Westerhall in St David and the town of St George.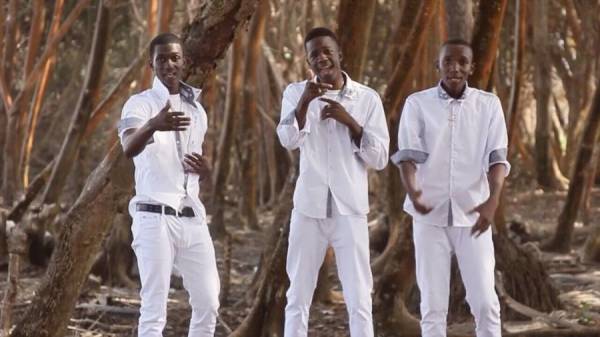 Commenting on their experience producing the video, Langaigne said, "This has been a truly amazing experience for us, as we all want to pursue careers in music and entertainment. We recorded the song in 2012 for the competition 'Spice it up- Sing for preparedness' on Disaster Awareness, and are very excited that our song was selected to spread the message on Climate Change Adaptation. We were most impressed with the quality of the video production which rivals videos produced internationally."
Permanent Secretary with responsibility for Agriculture, Lands and the Environment, Merina Jessamy (Ag) commended the young artistes for the active roles they have undertaken, and urged the media to play their part in spreading the message of this important global issue. "We cannot do this alone. Music is a language that all generations understand and is the reason why we have chosen to use this engaging medium. We ask our people to pay attention to what is happening around us, and encourage the young artistes to continue to champion this cause and further uplift our communities by using their gifts."
Russ Fielden, owner of True Blue Bay Boutique Resort and a prominent voice for 'Green issues' in Grenada, was also present at the event. He recounted his experience as a child seeing what pollution did to the environment and encouraged Grenada to take action now. "As a child, I remembered the heavy smog in England and wondered how the earth can sustain this? By the time British authorities started cleaning up the environment, major environmental damage was already done; it would take huge sums and time to arrest the damage. We must learn from the experience of others as we need to leave a future for our children. Grenada can lead by example and show how it can be done."
The music video has received significant interest and can be found on YouTube, the ICCAS Project Facebook page and via DropBox. It will be played on various television and radio media outlets across the state.
NOW Grenada
is not responsible for the opinions, statements or media content presented by contributors. In case of abuse,
click here to report
.