The Grenada Trade Centre erupted with loud applause and cheers as St Joseph's Convent, Grenville, and their company 'Herbal Explosion' won the 2015 'Company of the Year' title at the Junior Achievement (JA) Programme's closing ceremony, on Wednesday, 15 April 2015.
The air was electric with excitement as the main awards were announced at the closing ceremony. Whilst all the schools performed exceedingly well, St Joseph's Convent, Grenville with 'Herbal Explosion', captured first place in five of the six main award categories: Most Outstanding Booth, Best Customer Service, Overall Winners of the Trade Fair, and Sales Company of the Year with $7,603.50 in profits.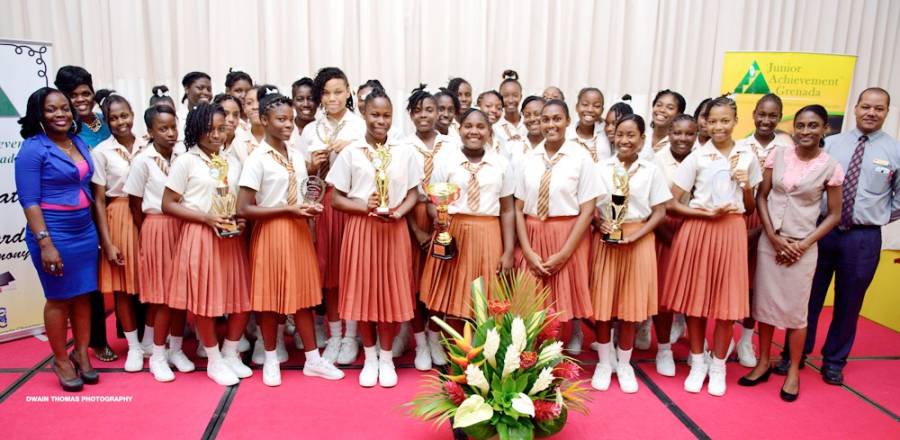 St Joseph's Convent, Grenville, won the coveted title of Company of the Year for three consecutive years in 2010–2013, and this year reclaimed their title from St Rose Modern Secondary School, who swept the board in 2014. 'Freaky Fresh' (GBSS) was awarded for most outstanding business plan.
"Our team would like to congratulate the students on their outstanding achievement. CIBC FirstCaribbean has been a regional sponsor of JA for the past 6 years and a local sponsor for St Joseph's Convent Grenville for 5 years. We are pleased to see such tangible results from the investment we have made in the school and are looking forward to seeing these exceptional students make their mark in the business community in future," Nigel Ollivierre, Country Manager of CIBC FirstCaribbean International Bank said.
The ceremony, which was held at the Grenada Trade Centre, was very well attended and included officials from the Grenada Chamber of Commerce & Industry, the coordinators of JA Grenada; Louis Crishock, Chargé D'Affaires of the US Embassy, based in Grenada; students and teachers from schools across Grenada and Carriacou, which participated in this year's programme; sponsors; numerous volunteers; and Alexandra Otway-Noel, Minister for Implementation.

Barely able to contain her excitement, Shereesa Jackson, President of 'Herbal Explosion', commended her teammates for their outstanding dedication. "We are extremely happy about our achievements at the Awards Ceremony. 6 months ago, we were not making the profits we wanted; however, we were determined to leave our mark and continue the legacy set by the JA alumni of our school and win this year's competition" she said.
She thanked teacher Kate Lewis who was instrumental in motivating them to perform at their best, and CIBC FirstCaribbean volunteer Clyde Walcott, who has been a mentor for the school's JA students for a number of years.
Addressing the graduates, Bernard Antoine, Chairman of JA Grenada's Board of Directors, congratulated the students on successfully completing the programme and urged them to use the resources and skills they learned in the programme to further their goals.
"Today is a proud moment for those who have completed the programme. I am optimistic that one of our graduates will become a leading entrepreneur not just in Grenada but in the Caribbean, which will be accredited to their experiences gained in the JA programme" he said.
Each year, the Junior Achievement Programme continues to add to its learning resources, which are then passed on to participating students. At the start of the programme in 2014, students were given the opportunity to attend a series of workshops where they were introduced to a core of skills required in business. These workshops included public speaking, marketing and sales, teamwork, constructing business plans and other skills, some of which were judged at the annual Trade Fair held in March.
As is customary, each school created a company and product, which they 'sold' to the public, using the knowledge and skills learned in the programme, with the end goal of generating a business profit. The Trade Fair brought all the companies together to showcase their products — ranging from t-shirt prints, puzzle books and various craft to herbal teas, oils and scented candles — which were scored by a panel of judges.
Awards were also presented to the outstanding company VPs. Terrishell Julien of 'Herbal Explosion' was Production VP of the Year; Andel Matheson of 'Miracle Leaves' (Bishop's College) was Operations VP of the Year; Sydney Walker of 'Herbal Explosion' was Marketing VP of the Year; Jessica Ferreira of 'Scentasy' (St Rose Modern Secondary School) was Human Resource VP of the Year and Summer Walcott also of 'Herbal Explosion' was awarded Public Relations VP of the Year. Delon Nurse of 'Freaky Fresh' (GBSS) won President of the Year.
In 2016, the Junior Achievement Programme will celebrate 30 years in Grenada. The programme has been successfully conducted in Grenada due to the support of numerous business partners: USAID, SGU, CIBC FirstCaribbean International Bank, GCIC, GRENLEC, Hubbards, Bryden & Minors Ltd., NIS, DIGICEL, Scotiabank, Quinn Co., Camper & Nicholson, Grenada Cooperative Bank, Creative Design & Building Construction, W R agostini & Co., Anchura Consulting, PGN SuperFresh, Young Americas Business Trust, Ministry of Education, Ministry of Carriacou & Petite Martinique Affairs, Ministry of Youth, NAWASA and Republic Bank (G'da) Ltd.
In addition to the many prizes awarded to the top performing students, 'Herbal Explosion' will represent Grenada at the Junior Achievement Company of the Year in the Americas at the end of November 2015.
NOW Grenada
is not responsible for the opinions, statements or media content presented by contributors. In case of abuse,
click here to report
.