By Linda Straker
Media workers are being called upon to create an avenue for more in-depth information to be shared and discussed with their audience, about the proposed recommendations to Grenada's constitution.
"A lot of attention is being given to the trivial recommendations, but we want to see the media engage in more discussion on some of the recommendations with far reaching outcome," said Dr Francis Alexis, Chairman of the Constitution Review Advisory Committee, during a session last Saturday, which was used to update the media to the current status of the process and seek input.
Alexis said that the proposed Bills of Rights and the Direct Principles of State Policy, which are likely to effect to the recommendations, are presently with the cabinet and the committee is awaiting instructions for the way forward.
"Once we have word on the way forward, we will step up the march, and let people know — but in the meantime we are continuing to meet with people, because the bills are just drafts and need to go through a process, so the contribution and suggestions from people can still be included," he said.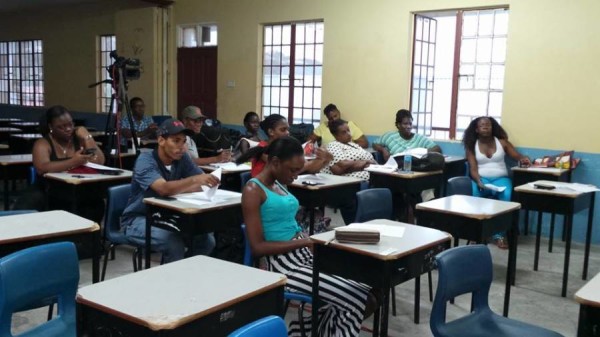 Following a presentation from Dr Alexis and Coordinator Robert Branch, media workers engaged the legal luminaries in frank and passionate discussions, as they sought clarity and explanation on a number of issues.
Raising emotions among the 15 media workers who attended the session at the PBC, was the issue of including "other media" to receive constitutional protection, similar to that of the traditional press. Branch explained that the thinking behind the inclusion of "other media" is the evolving role of the electronic media through electronic devices. "The right to freedom of the press is expressly protected, but with the new trend of using social and other media, it was felt that these other media will also need constitutional protection," he said.
Another issue which ignited heated debate was that of the State providing free tuition education to all persons 18 years and under. Whereas the Committee is recommending that the State have a duty to provide tuition free education for all persons who are classified as a child, Alexis said that follow-up discussions with other groups have seen a divide, with some requesting that the age be 16 instead of 18.
"This is one of the issues we think that publicly need to be discuss more in-depth. We want to hear from the people, and it's when the media engages in that level of discussion, we will hear differing views on the matter," said Alexis.
NOW Grenada is not responsible for the opinions, statements or media content presented by contributors. In case of abuse, click here to report.