by Curlan Campbell, NOW Grenada
10th year of Pump It Up! Family Fun Walk
Collected funds will be put into a trust fund held by Co-op Bank and managed by a board of trustees
Family Fun Walk will take place in Carriacou on 8 April, and in Grenada on 22 April
The Antillean Group has signed on to become the latest corporate citizen to partner with the Grenada Co-operative Bank Limited Pump It Up! Family Fun Walk, which is celebrating its 10th year.
The insurance company joins corporate citizens Jonas Browne and Hubbard Grenada Limited, Guardian General Insurance (OECS) Limited and Flow, to raise funds towards re-establishing the Carlton House Rehabilitation Centre for substance abusers, which was damaged in 2004 during hurricane Ivan and destroyed by fire in 2006.
A Memorandum of Understanding (MOU) was signed between Richard Duncan, Managing Director, Grenada Co-operative Bank Limited, and Kennie John Managing Director, Antillean Group, during Tuesday's press launch at Coyaba Beach Resort.
John said this is part of his company's corporate social responsibility in response to the impact of substance abuse on the fabric of society. "Our father of independence once said that the difficult we can do, the impossible will take a while. Likewise, Maya Angelou, the great author, poet, activist and renaissance lady said if we learn, we must teach; if we receive, we must give. I am of the firm belief that a society should not be measured by the edifices it erects, but rather the way it takes care of its own, and therefore this initiative by Co-op Bank and its partners is something that we should all embrace as Grenadians."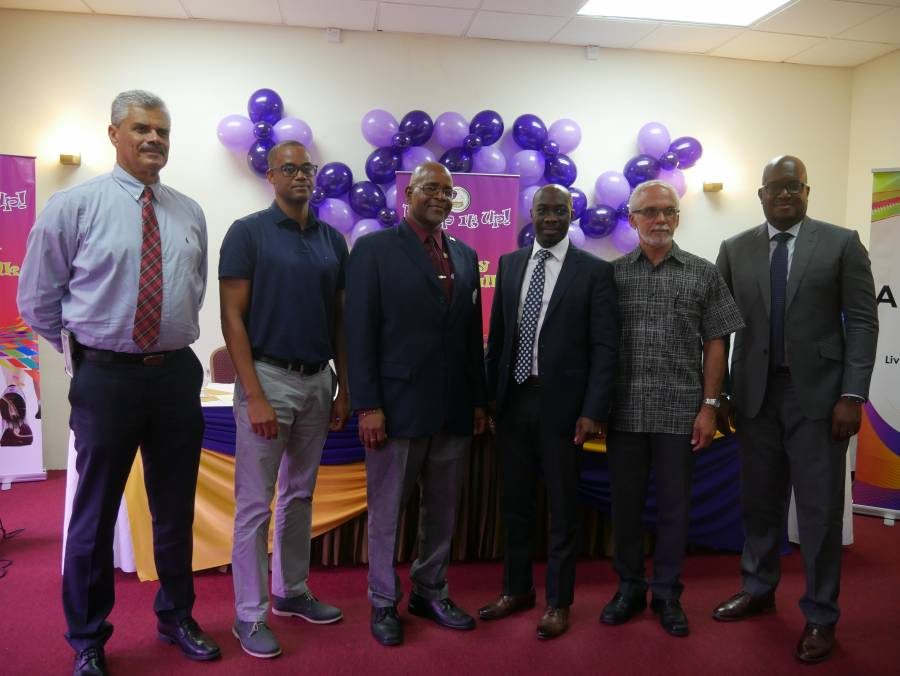 The vision to stage the Pump It Up! Family Fun Walk started with the launch of Co-Op Bank's Healthier Lifestyles Programme on 12 June 2008, geared towards promoting healthier living among our population.
Since 2009, the Family Fun Walk has raised funds to assist several charitable organisations including the Grenada Heart Foundation, Grenada Diabetes Association, Grenada Kidney Foundation, Sickle Cell Association and the Grenada Cancer Society.
Beneficiaries
2009 – Grenada Heart Foundation $10,072.00
2010 – Grenada Diabetes Association $17,115.17
2011 – Grenada Kidney Foundation $16,055.00
2012 – Sickle Cell Association of Grenada $14,608.50
2013 – Grenada Cancer Society $24,399.46
2014 – Pink Ribbon Society $17,426.25
2015 – Lupus Foundation of Grenada $15,426.25
2016 – Re-establishment of Carlton House $16,541.00
2017 – Re-establishment of Carlton House $16,500.00
However, in 2016, the bank decided to re-focus its charitable efforts towards the re-establishment of Carlton House and started forging partnerships with corporate citizens to make this possible. A release from the bank states that under the MOU, all funds collected over the years 2017-2021 towards the re-establishment of the Carlton House shall be placed into a trust fund held by the bank. The fund has since accumulated $78,353.64.
A 4-man board of trustees was identified last year: Alan Bierzynski, Managing Director of Jonas Browne and Hubbard Grenada Limited; James Pitt, Country Manager of FLOW and Ronald Hughes, Managing Director of Guardian General Insurance OECS Limited. It is expected that within a 5-year period, the bank should raise approximately EC$500,000 towards Carlton House.
Duncan reiterated the bank's commitment to meet its target goal of raising half a million dollars towards Carlton House. "Pump It Up as a healthier lifestyle programme, is run primarily by a group of volunteers at the bank. At the appropriate time, the trustee will determine how much will be disbursed to the authorities towards the rehabilitation of Carlton House, and this requires us to work in close harmony with the Ministry of Health and Government of Grenada. We are into our 10th year; we expect Pump It Up will be not only the biggest but to be the best executed of all the events we have had so far."
Last year, the Ministry of Health identified a new site for the reconstruction of Carlton House at the Princess Alice Hospital in Mirabeau. Plans are to build a state of the art facility in 3 phases over a period of 5 years at the cost of $2.6 million.
Physiotherapist Garvin Taylor Jr is this year's health consultant. His primary role will be to dispense health information, organise the first aid aspect on the days of the walk, as well as to guide body image on the warm up and cool down sessions.
Taylor Jr stressed the need for Grenadians to embrace a healthier lifestyle in combating the prevalence of non-communicable diseases. "The incidence of type 2 diabetes in the Caribbean is 9% with 13.8% deaths as a result of type 2 diabetes. Hypertension is one of the most preventable causes of premature mortality worldwide. In the Caribbean the prevalence of hypertension is reported to be 26% of people above 25 years and as high as 55% above 40 years of age; the figures are alarming for a largely preventable condition."
The Family Fun Walk will take place in Carriacou on 8 April 2018, and in Grenada on 22 April 2018.
NOW Grenada is not responsible for the opinions, statements or media content presented by contributors. In case of abuse, click here to report.