by Curlan Campbell, NOW Grenada
L'Anse/Lance Bridge in Gouyave open to vehicular traffic
Hubble Bridge closed to vehicular traffic until Friday, 10 May
Officials conducted a soft launch of the L'Anse/Lance Bridge in Gouyave, St John on Tuesday, 8 May 2018, declaring the bridge open to vehicular traffic, despite the continuation of work to install a ramp to accommodate differently-abled people.
After nearly 18 months since the start of construction, the official launch of the bridge is carded for early June, however, no date has yet been set.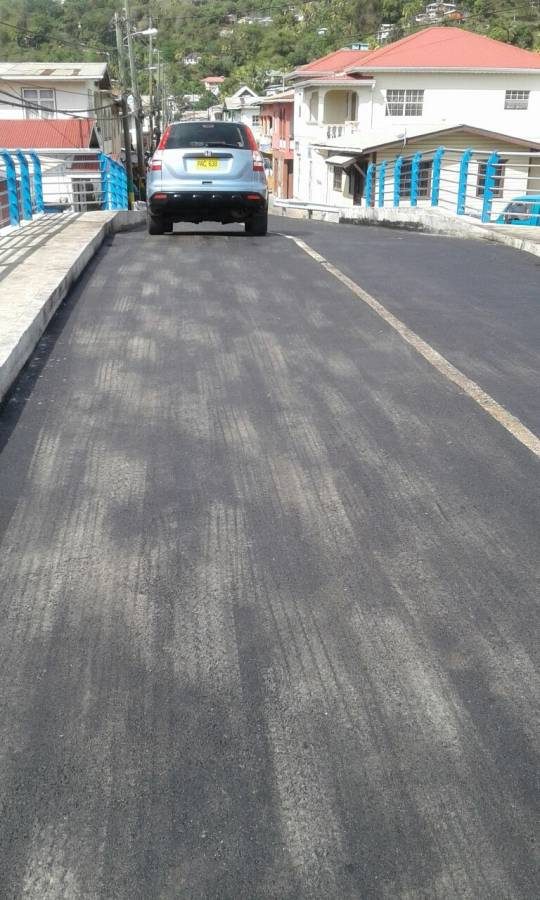 Minister for Infrastructure Development, Public Utilities, Energy, Transportation and Implementation Gregory Bowen, Parliamentary Representative for St John, Alvin Dabreo and contractor Bob Xu were present at the launch.
Dabreo said that the completed project will include a sidewalk for pedestrians together with a ramp to accommodate wheelchair access. He mentioned there were delays due to issues arising with nearby residents whose property borders the construction. Those issues have been resolved by the Physical Planning Unit and the work will continue. "The motoring public will be very pleased, in particular those from St Mark, St Patrick, and St John who can now access the bridge while construction continues."
Although somewhat still incomplete, the bridge is being reopened to ease the hassle of commuters using the Western route. Minister Bowen said, "The ministry takes these projects seriously after recognising the problems faced by the commuting public, hence the ministry is moving quickly to re-open the bridge for traffic."
The heavily travelled bridge is one of 2 bridges constructed in the parish as part of the Disaster Vulnerability Reduction Project and includes the Hubble Bridge which collapsed in 2015.
The Hubble Bridge will be closed to vehicular traffic until Friday, 10 May to facilitate the much-needed repaving of the bridge.
NOW Grenada
is not responsible for the opinions, statements or media content presented by contributors. In case of abuse,
click here to report
.